The 7 Train, CBTC, and the trouble with expectations
The 7 train finally cut over to CBTC service! Hooray!
Hoo…ray!
Hoo…hmm.
OK, so the first week of the CBTC on all of the 7 line—which has been more than a decade in the making, five years behind schedule, and at least $157 million over budget—hasn't gone well. The 7 has been hit with delays or service changes each day during rush hour. Via SubwayStats.com, here is how the 7 train looked during the first two days after the cut over: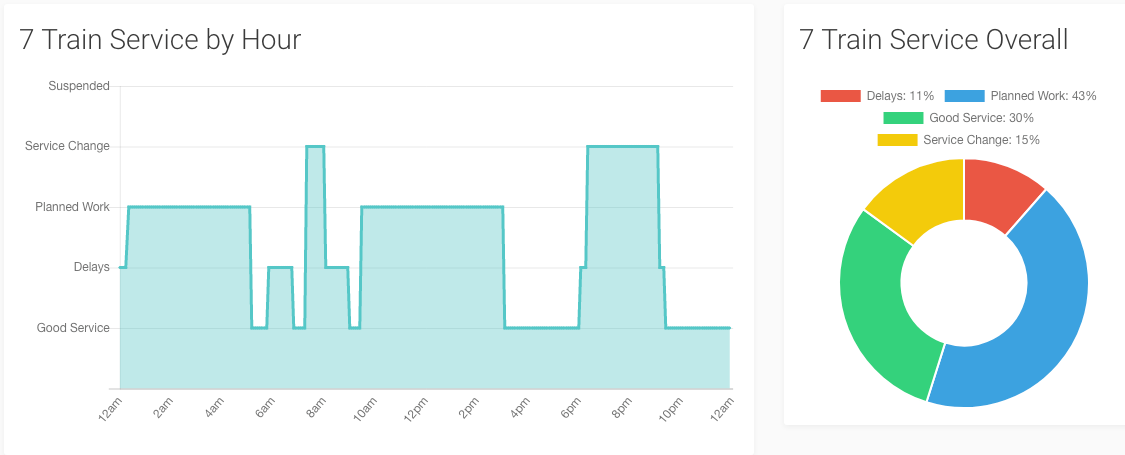 Not all of those service disruptions are due to the cutover—someone was struck by a train Tuesday night for example—but most have been a number of "network" or "connectivity" issues affecting the signals.
So what happened here?
First, if you're new to Signal Problems or need a refresher course on CBTC, here's a primer I wrote for the Village Voice.
Now, what's this about the "cutover?" Over the last year or so, CBTC has been gradually rolling out in segments across the 7 line, moving from east to west. When CBTC is ready for a new segment, they call it cutting over. Before last week, CBTC was the signaling system until just before Grand Central. The final cutover this week completed the entire line, which seemed like something to celebrate, right?
Well, not so fast. For those paying attention, previous cutovers had their issues, too. For example:
Furthermore, it might sound like the CBTC project ends with the final cutover, but it doesn't. As Robert Gomez, a program officer in Capital Program Management told the MTA board earlier this month, there are still weeks of fine-tuning that take place afterwards. Right now, CBTC is the 7's signaling system, but trains are not running in full automatic mode, called Automatic Train Operation (ATO), in which the motorman presses a button and the train goes until it stops. Instead, they're operating in what's called "restricted manual" mode, which is a kind of hybrid between human-operated and ATO, in that it tells train operators when they can proceed and at what speed.
So, even though the CBTC cutover has occurred, the most important benefits of CBTC are yet to kick in. A lot of focus on CBTC is how many more trains the MTA can run along the line, which is indeed important, but that's only a piece of the CBTC puzzle. The reliability improvements are just as important. Those improvements come via two main features: first, more stable hardware so the signals rarely malfunction, and second, ATO, so the trains always strike the right balance between speed, safety, and spacing between trains.
Right now, the 7 is not getting those benefits because the project isn't finished yet. Contractors are still tinkering with the software to prep for ATO, and until that is done, CBTC on the 7 has not been, to use the MTA's technical terms, "substantially completed."
My initial inclination was to blame NYCT—naturally—for misleading customers about the nature of the cutover and saying the project is done when it's not. After all, we all know NYCT has issues communicating with customers. But I actually don't think this is one of those cases. In fact, I think they've been pretty clear that there's more work to be done after the cutover, both in board meetings and in communicating with the public. See, for example, their tweet from Monday announcing the cutover:
I then wondered if it maybe would have been better for them not to say anything about the cutover at all since it wouldn't substantially change the customer experience. But it's my opinion the MTA should always err on the side of transparency. It is, after all, a public authority. In fact, I can't really think of a good argument against the MTA announcing the cutover as they did. So, while we'd all prefer to live in a world where the network problems didn't happen this week, I have a hard time faulting NYCT or the MTA for anything other than the signal problems themselves.
Instead, I think 7 riders, who have put up with almost five years of service disruptions, were understandably anxious to finally start experiencing the benefits of that sacrifice. And they will, very soon. Unfortunately, that angst led to misunderstandings, and now there's even more resentment and frustration, which tends to happen among all parties towards the tail end of very delayed and troubled projects regardless of what is said or done.
This causes me to worry. Not that the benefits won't come, because they will. But the project has been so delayed for so long and caused so much inconvenience while the rhetoric around upgrading the signals have been so heightened to the point where it's all too often presented as some magical panacea for all that ails the subway, no signal upgrade in the world could possibly deliver the outsized benefits riders now anticipate. It will be better. But will it be good enough?
News You Probably Can't Use, But About Which You Can Certainly Brood
In Which I Make An Educated Guess About When Things Will Get Better
This week's estimate: June 2022
Change log (the links are where I explain the change):
May 25, 2018: June 2022
March 30, 2018: 2030
March 16, 2018: 2024
February 2, 2018: 2021
January 20, 2018: 2020
Your Upcoming Service Advisories, Provided by Lance from
Subway Weekender
Note: the service advisories reflect the most disruptive changes. Be sure to check the maps or the MTA website for a full list of service changes.
Weekend:
A C – multiple diversions

Uptown service is express-only between 59 St-Columbus Circle and 145 Street

Brooklyn-bound service runs via F line between W 4 Street and Jay St

F – multiple diversions

No service between Church Av and Coney Island

Queens-bound service runs via E line between Rockefeller Center and Roosevelt Av

G – No service between Nassau Av and Court Square

J – No service between Hewes St and Broad St

M – No service between Myrtle Av and Essex St

N – No service between Queensboro Plaza and Ditmars Blvd

N R – Brooklyn-bound service runs via Manhattan Bridge

Q – Manhattan-bound service runs via R line between DeKalb Av and Canal St

R – No overnight service between Atlantic Av and Whitehall St

S (Franklin Ave) – No daytime service
Late Nights:
1 – No service between Chambers St and South Ferry

4 6 – Downtown service is express-only between Grand Central and Brooklyn Bridge (Wed., Fri. mornings)

6 – Split service at 125 Street

A – multiple diversions

No service between Jay St and Utica Av

Brooklyn-bound service runs via F line between W 4 Street and Jay St

E – multiple diversions

No service between Briarwood and Jamaica Center

Manhattan-bound service runs via F line between 21 St-Queensbridge and W 4 Street

Jamaica-bound service is express-only in Queens

G – No service between Bedford-Nostrand Avs and Court Square

N – Manhattan-bound service runs via Manhattan Bridge

N Q – Uptown service is express-only in Manhattan

Q – Brooklyn-bound service runs via R line between Canal St and DeKalb Av
Meanwhile, in the Rest of the World
Portland plans to increase the people-carrying capacity of streets by 60 percent simply by increasing road space for buses and bikes by six percent.

Also on that front, London's TfL conducted a big study on the economic benefits of walking/cycling neighborhoods. One key finding: walkers/cyclists spend 40 percent more in their local neighborhoods than motorists.

It's pretty gratifying to be a member of the generation that realized, in fact, cars really suck.
Subway Eating Story
If you have a subway eating story (that doesn't involve someone making a mess because we don't want to encourage that type of behavior) send it along to signalproblems@substack.com.
Reader Michael McCarthy writes in with this week's heartwarming food story:
I was riding a downtown 1 train from 103rd to 14th when a small boy and his mother got on the train. The boy was holding a white paper bag, and when he sat down he asked his mother how many stops they had until their destination. The mother said they had 10 stops and that it would be a while. The boy responds "Perfect. That's enough time to eat my pizza." He proceeded to pull a slice out of the paper bag and began chowing down. Unfortunately, I don't know if it was, in fact, enough time because I got off before him, but that quote and joy at being able to eat on the subway will always stick with me.
David Roth's
Esteemed Subway Rider of the Week
I was on the train a lot this week by my standards, but everyone mostly looked stressed and impatient. I think the award will have to be split between the three teenage girls who, on a not nearly full Q train, nevertheless opted to pile into one of those two-seaters. If I had to pick one, it would be the girl who instantly somehow fell asleep, but really all three did great work.
Dog in a Bag
MTA Rules of Conduct Section 1050.9 Subsection (h) Paragraph 2: no person may bring any animal on or into any conveyance or facility unless enclosed in a container and carried in a manner which would not annoy other passengers.
Have a dog in a bag photo? Reading this on the subway and see a dog in a bag? Take a picture and send it to signalproblems@substack.com.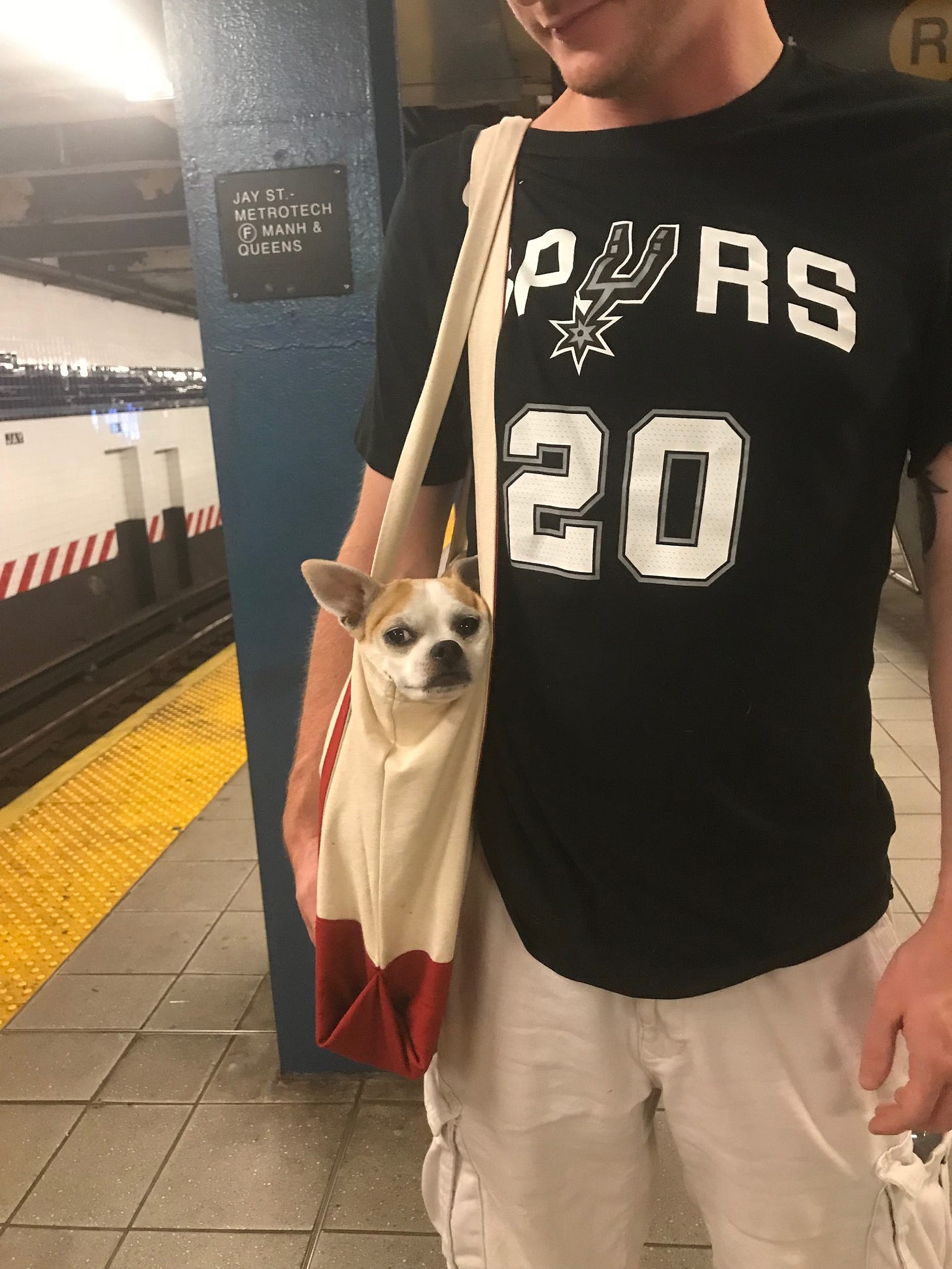 Photo credit: Aaron Yellin
---
This has been another edition of Signal Problems, a weekly newsletter helping you figure out what is going on with the subway, made every week by Aaron Gordon, freelance transportation reporter. Read on the web or view the archives at signalproblems.nyc.
If you're enjoying this newsletter, please share it with others. It's the best way you can say thanks.
As always, send any feedback, subway questions, or Dog in a Bag photos to signalproblems@substack.com. I'd love to hear from you. As someone on a stalled Q train once told me, we're all in this together.