May 25, 2018: Is the Subway Getting Better?
Hi friends. The big news this week is Andy Byford has a plan to fix the subway (and buses). There is an awful lot to it, which I hope to dive into in a future issue. For now, the basic outline is: it's a good plan, everybody loves it, but Cuomo is like "meh, let's see." You can read my full take over at The Voice. But it was also Board Week, which means it's time for the monthly Is The Subway Getting Better edition. For a more detailed explanation on why I do this every month, hop over to the April 27 edition.
Subway performance remained frustratingly inconsistent. In spite of intense focus and physical work on key assets, we are not yet seeing the full benefits of our efforts.
That's Byford in this month's board book. In other words, all that $836 million Subway Action Plan work has so far not resulted in the key performance indicators getting any better. Weekday On-Time Performance was 65.2 percent in March, better than recent months but in line with July and August 2017, the height of the subway crisis:

It's worth keeping in mind that five years ago the MTA targeted the goal of Weekday On-Time Performance to be around 92 percent. So when I'm citing these OTP stats, I'm not particularly interested in small margins, because the system is 30 percentage points off target.
Major Incidents, the metric most closely associated with the Subway Action Plan, also continues to frustrate the MTA:

Again, hard to see any improvement here, a fact Byford has conceded.
In what I thought was a revealing exchange, board member Carl Weisbrod asked a really good question of new head of Subways Sally Librera. Have they detected any pattern to these major incidents? Have they learned anything? She offered a thoughtful reply:
The location and timing of an incident has a big impact on whether or not it becomes a major incident. So a particular switch failure, if it happens in the middle of the night might not make it onto the major incident list but if it happens, you know, at the peak on a weekday, then it will.
This makes sense! Major Incidents is defined by the number of trains delayed (50 or more) and the same exact failure that lasts for the same amount of time will impact more trains at rush hour than midnight.
But it also gets at why Major Incidents is such a challenging stat on which to base subway performance. It's not so much if a signal or switch fails but when. Considering there are only a few dozen major incidents a month, that means a "good" month could just mean a lucky month and a "bad" month could be an unlucky one.
The fact that month-to-month Major Incidents stats are not particularly meaningful—since the two biggest factors appear to be weather and timing—may be the reasoning behind Byford's optimism:
I remain confident that performance will become good, however, and there are signs of improvement in a number of key indicators.
These "signs of improvement" he's referring to are, mostly, major incidents when taken in aggregate since the Subway Action Plan began as compared to the first half of 2017. While these more positive stats shouldn't be ignored, it's worth pointing out "the first half of 2017" is a fairly arbitrary data group and even a reduction on that time period wouldn't necessarily indicate a "stable" subway system. Instead, I think Byford's mostly going by basic logic: the more signals they maintain, switches they fix, drains they clear, eventually the system has to improve. It has to, right?
Other Odds and Ends From the May Reports
Good news for A, D, E, and F riders. You're getting a slight bump in weekday service surrounding peak hours. This means headways will reduce by a few minutes during the following times. All changes will go into effect November 2018:

The A will be getting three more roundtrips between 8:0 PM and 11:30 PM

The D will be getting four additional roundtrips between 3:30 PM and 9 PM

The E will be getting three additional roundtrips between 10:30 AM and noon

And the F will be getting three additional roundtrips in two time slots, for a total of six additional roundtrips:

10:30 AM to 11:30 AM

8 PM to 9:30 PM

In an ongoing worry, ridership continues to decline: weekday ridership was down to 5.3 million in the first quarter of 2018, "a decrease of 3.6 percent from the same quarter the year prior." Second Ave. Sagas has a brief analysis of this trend—in short, the MTA doesn't seem to know why and the loss revenue could lead to a significant funding gap—but it's also worth mentioning public transit ridership declines are essentially a national trend (that link is to Yonah Freemark's excellent analysis on the subject).
Oh, Some Other Stuff Happened Too
If you want to read more on the Corporate Plan:

Amtrak and the MTA are arguing again. Time to go hide in the closet until they're done shouting.

This news was somewhat overshadowed by the subsequent release of the Corporate Plan, but Brian Rosenthal of the Times did a deep-dive into Registered Lobbyist/MTA Chairman and CEO Joe Lhota's various conflicts of interest. "In an interview, Mr. Lhota said that his other jobs did not pose conflicts because he was not actually an M.T.A. official." When asked about this later in the week, Lhota said he hasn't read the article and doesn't subscribe to the Times because he can read it for free online. Minutes later, he reminded the assembled media that because he is a millionaire he therefore doesn't support the proposed millionaire's tax.

I wasted entirely too much time playing this subway-themed Donkey Kong Country adaptation only to find out the end result is privatizing the MTA.
In Which I Make An Educated Guess About When the Subway Will Get Better (With An Actual Update This Time)
This week's estimate: June 2022
The Save The Subway Plan calls for upgrading five lines to CBTC within five years, shutting them down for nights and weekends for up to 2.5 years at a time, prioritizing the lines with the highest ridership first (keep in mind this work is unlikely to begin prior to 2020, as all of the expensive parts of this plan are targeted for the 2020-2024 capital program). That means the first lines up will likely be chunks of the A/C/E and 4/5/6. My thinking is, by then there should be significant improvement in the bus service with all-door boarding and more efficient route networks in place.
But make no mistake, this is about when things will be better, not when things will be good. Even if this—and all future politicians—throw their weight behind this plan and keep it funded through thick and thin, we're still talking another eleven years until the vast majority of the system is running on CBTC. And that interim will require a lot of patience and sacrifice from aspiring commuters.
Your Upcoming Service Advisories, Provided by Lance from
Subway Weekender
Note: the service advisories reflect the most disruptive changes. Be sure to check the maps or the MTA website for a full list of service changes.
Weekend:
2 5 - Manhattan-bound service is express-only between E 180 Street and 3 Av-149 St

4 - No service between Utica Av and New Lots Av

A - No service between 168 Street and 207 Street

A C - Downtown service is express-only between 125 Street and 59 St-Columbus Circle

C - No service between 145 Street and 168 Street

D - All service runs via A and F lines between 59 St-Columbus Circle and Coney Island

E F R - Manhattan-bound service is express-only between Parsons Blvd and Roosevelt Av

F - All service runs via Q and D lines between Lexington Av-63 St and Coney Island

N - multiple diversions

No service between Queensboro Plaza and Ditmars Blvd

All service runs via R line between Prince St and Atlantic Av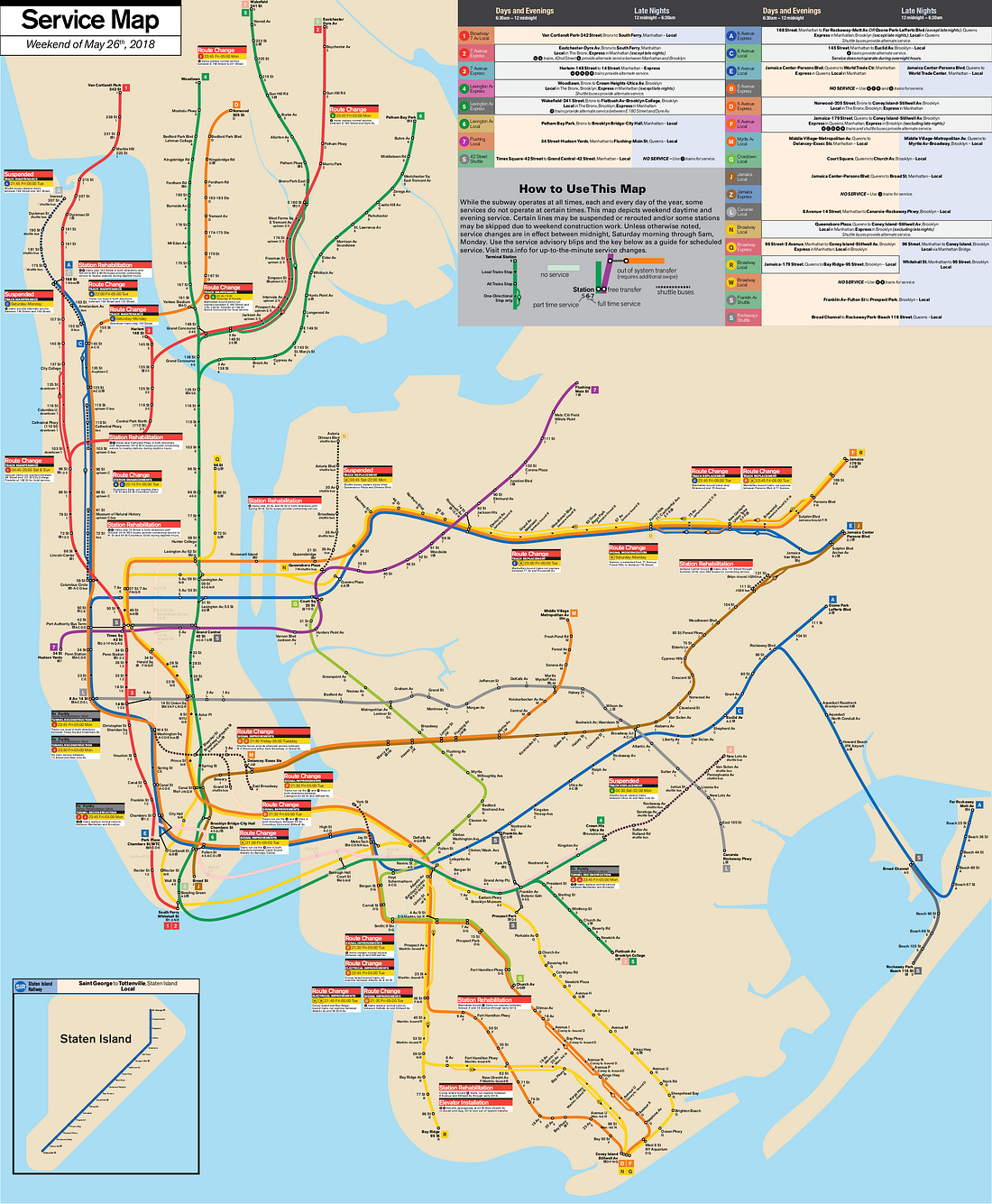 Late Nights:
2 - No service between Chambers St and Atlantic Av

3 - No service

4 6 - Downtown service is express-only in Manhattan

A - multiple diversions

No service between 168 Street and 207 Street

Downtown service is express-only between 125 Street and 59 St-Columbus Circle

D - Uptown service runs via A line between W 4 Street and 59 St-Columbus Circle

F - multiple diversions

Split-service operation in effect at Hoyt-Schermerhorn A G station

All service is local-only in Queens

N - All service runs via D line between 36 St/4 Av and Coney Island

Q - Downtown service runs via F and D lines between Lexington Av-63 St and DeKalb Av

R - No service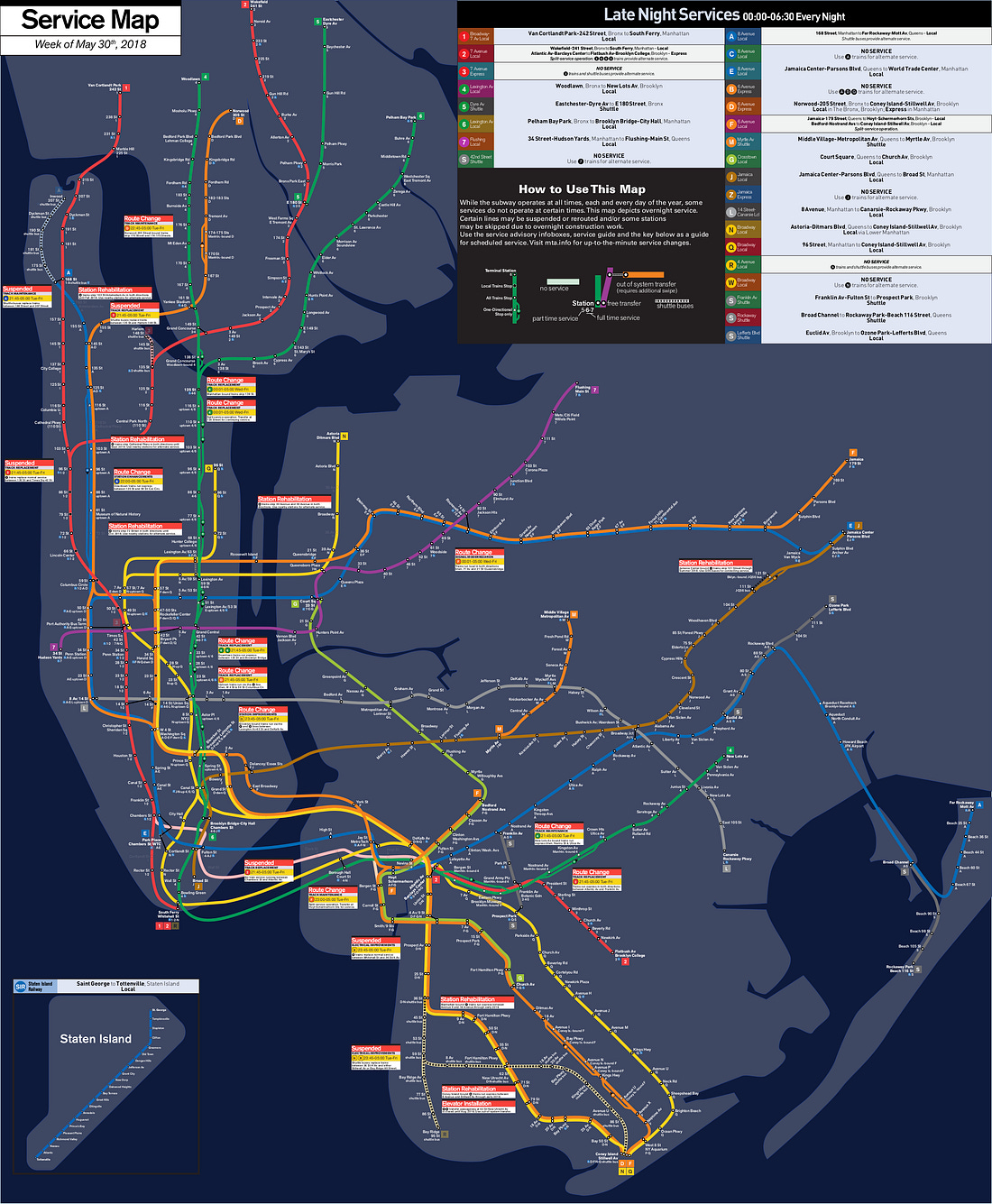 Meanwhile, in the Rest of the World
Last week, the Nation of Qatar paid to keep the DC Metro open late enough to bring Capitals fans home from their playoff hockey game. This week it was **record scratch** Uber?!? The Capitals advanced to make the Stanley Cup Finals so I can't wait to find out who will sponsor the Metro next week. My money's on Northrop Grumman.

Could trains be the game-changer for North Korea peace talks?
MTA Mention of the Week
Electrical fire at Ave.I @NYCTSubway F line at McDonald Ave. pic.twitter.com/4SuuubW0Xs
May 23, 2018
(Click for the video.)
Dog in a Bag
Have a dog in a bag photo? Reading this on the subway and see a dog in a bag? Take a picture and send it to aaron.wittes.gordon@gmail.com.

Photo credit: Bee Aldrich
---
This has been another edition of Signal Problems, a weekly newsletter helping you figure out what is going on with the subway, made every week by Aaron Gordon, transit reporter for the Village Voice.
If you're a new or prospective subscriber, head over to the Subway Knowledge Base page for an introduction to the state of the subway. And if you're enjoying this newsletter, please share it with others. It's the best way you can say thanks.
As always, send any feedback, subway questions, or Dog in a Bag photos to aaron.wittes.gordon@gmail.com. I'd love to hear from you. As someone on a stalled Q train once told me, we're all in this together.