March 30, 2018: The Status My Service Status Is In
Welcome to Signal Problems, a weekly newsletter helping you figure out what is going on with the subway. I'm Aaron Gordon, a freelancer writing about many subjects, one of which is transit for the Village Voice. If you're a new or prospective subscriber, head over to the Subway Knowledge Base page for an introduction to the state of the subway.
As always, send any feedback, subway questions, or Dog in a Bag photos to aaron.wittes.gordon@gmail.com. I'd love to hear from you. As someone on a stalled Q train once told me, we're all in this together.  
This Week In #CuomosMTA
On Monday evening, starting roundabout 5:10 PM, people on Twitter started to complain about the F train. Or, more accurately, people on Twitter started to complain about the F train more than usual. Their complaints were of a familiar vein: Why does the website say "Good Service" when there are clear indications service is, in fact, not good?
It took @NYCTSubway, the official subway account, 20 minutes to acknowledge the delays, and another 11 minutes after that to officially update the service status, which third-party apps such as Google Maps and Citymapper rely on. All told, it took a half hour during the evening rush from the time customers started to experience delays to the point the status was officially updated to reflect that.
Unfortunately, this is a common occurrence. Commuters complaining on Twitter often relays subway status information much faster than the official MTA website.
Consider the two processes involved. All I have to do is look at the replies to @NYCTSubway to see if any line is experiencing specific difficulties. But for the MTA, the same information has to get relayed through several channels. I'm not sure of the exact process, but I think it requires the dispatchers in Rail Control Center to provide some kind of update to those at HQ who manage subway status information. At the very least, the social media team is typically aware of service status changes before they hit the website, as they were with the F train on Monday, which indicates they're in the middle of this telephone chain.
This is roughly the same process for updating service statuses since the MTA changed its website way back in 2010, the first time the agency prominently displayed such information on the home page:

Looking good, 2010 MTA.
Back in 2010, Transit didn't really have a better way to update service statuses, especially for the lettered lines which didn't have any kind of automatic train management system (Lines 1-6 and the L have either CBTC or Automatic Train Supervision [ATS] which in very broad terms is the "communications" part of communications-based train control). But starting around 2014, NYCT rolled out a system called I-TRAC which required dispatchers in control towers to manually log train observations so train locations could be monitored in something like real time. This wasn't a very good process—observations would be made every few stops at best—but it was better than before when dispatchers would have very little information about the trains running.
But with the installation of the new countdown clocks, I-TRAC (and the clocks) replaced tower observations with bluetooth transponders reading RFID chips on each train when entering and leaving a station.
This has intriguing possibilities for automating service status. As John Lagomarsino mentioned to me, an algorithm could be programmed to calculate headways across the entire system in real-time and automatically detect gaps. To take it a step further, a machine learning algorithm could be trained on what "delays" looks like and then start applying the status proactively without human intervention.
Of course, the new countdown clocks are not accurate, so automating status updates off the unreliable countdown clocks could be trouble. Then again, unreliable countdown clocks are generally an indicator of unreliable service, so it wouldn't be the worst thing in the world for riders to know when countdown clocks are on the fritz.
The good news is, because the MTA makes all of this data publicly available to developers, we don't need to wait for them to get their act together. Anyone from Citymapper or Transit reading this? Or any enterprising developers want to work with me on it? Get at me.
News You Probably Can't Use, But About Which You Can Certainly Brood
No More Line Ratings
If I've learned one thing while working on this newsletter, it's that measuring how often lines are in "good service" is useless. So no more line ratings.
At first, I thought about replacing it with another statistic, but unfortunately, there are problems with that too:
Last fall, multiple former officials told us that the @MTA's data on the causes of NYC subway delays were in many ways meaningless. (See screenshot below)

Every day, it becomes more clear that they were right.

Another great @DanRivoli story here: https://t.co/uPeuNg10UZ pic.twitter.com/8SgcD0Yl2Q
March 27, 2018
I have heard many of the same things Brian did, as I explained a bit in a quote-tweet:
People currently inside the MTA know this too. I think it broadly manifests into camps: those who want the delays to be attributed to real reasons and those who think the delay numbers don't accurately reflect anything important. https://t.co/ryjkTbwrWF
March 27, 2018
So instead of reporting a useless metric to you, I'm going to use this section to delve into the statistics the MTA does report and what they do and don't tell us. I'm thinking it'll be called Better Know A Subway Stat (named after my favorite Colbert Report segment,
Better Know A District
). And to keep you apprised of subway performance as best we can measure it, when the MTA releases their committee books with various performance stats every month I will give you a quick rundown of the major takeaways.
In Which I Make An Educated Guess About When Things Will Get Better
This week's estimate: 2030
It seems like the Wall Street Journal got a sneak preview of Byford's upcoming Corporate Plan and it's basically exactly what we'd expect: he wants to condense the cost and timetable of installing CBTC across the entire system, with the goal of doing it for $8-15 billion in 10-15 years. Byford also wants to accomplish re-signaling of the two busiest lines (the numbered lines in Manhattan) within five years. To make this happen, he's warning of extended weekend outages.
Ten to 15 years sounds about right to me. Let's split the difference and call it 12.
Your Upcoming Service Advisories, Provided by Lance from
Subway Weekender
Weekend:
2 - No service between E 180 Street and 96 Street

3 - No service

6 - Pelham Bay-bound service is express-only between 3 Av-138 St and Parkchester

A - No service between Howard Beach and Far Rockaway

C - All service is express-only between 59 St-Columbus Circle and Canal St

D - All service runs via C line between 59 St-Columbus Circle and W 4 Street

D F - Brooklyn swap

N - No service between Times Sq-42 St and Ditmars Blvd

N Q - Coney Island-bound service runs via R line between Canal St and DeKalb Av

Q - All service is local-only in Manhattan

S (Rockaway Pk.) - No service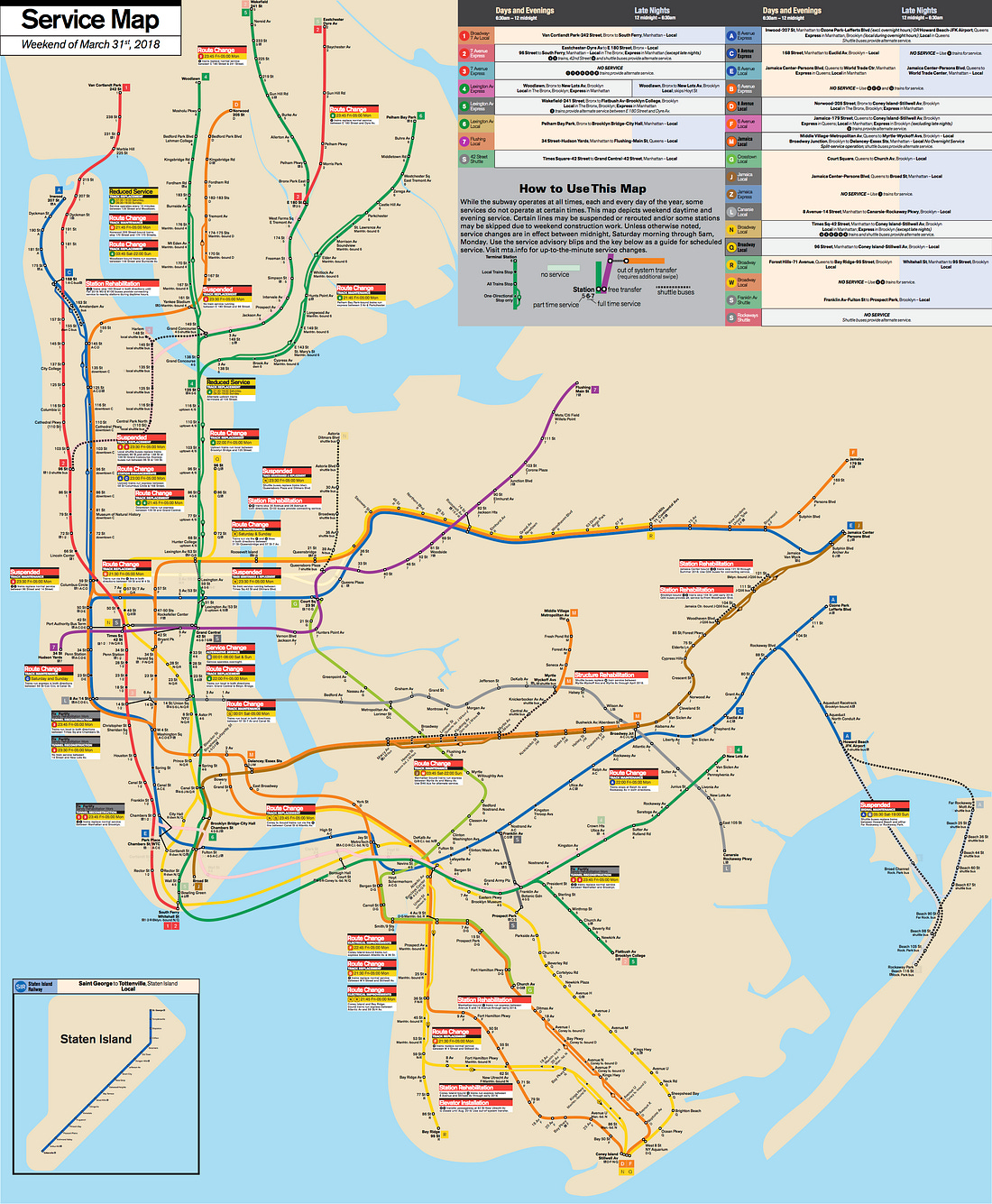 Full map here
Late Nights:
6 - Split service at 125 Street

D - Uptown service runs via A line between W 4 Street and 59 St-Columbus Circle

E - Manhattan-bound service is express-only between Jamaica-Van Wyck and Roosevelt Av

N - No service between Queensboro Plaza and Times Sq-42 St

R - multiple diversions

No service between Atlantic Av and Whitehall St

All service is express-only between Atlantic Av and 36 St/4 Av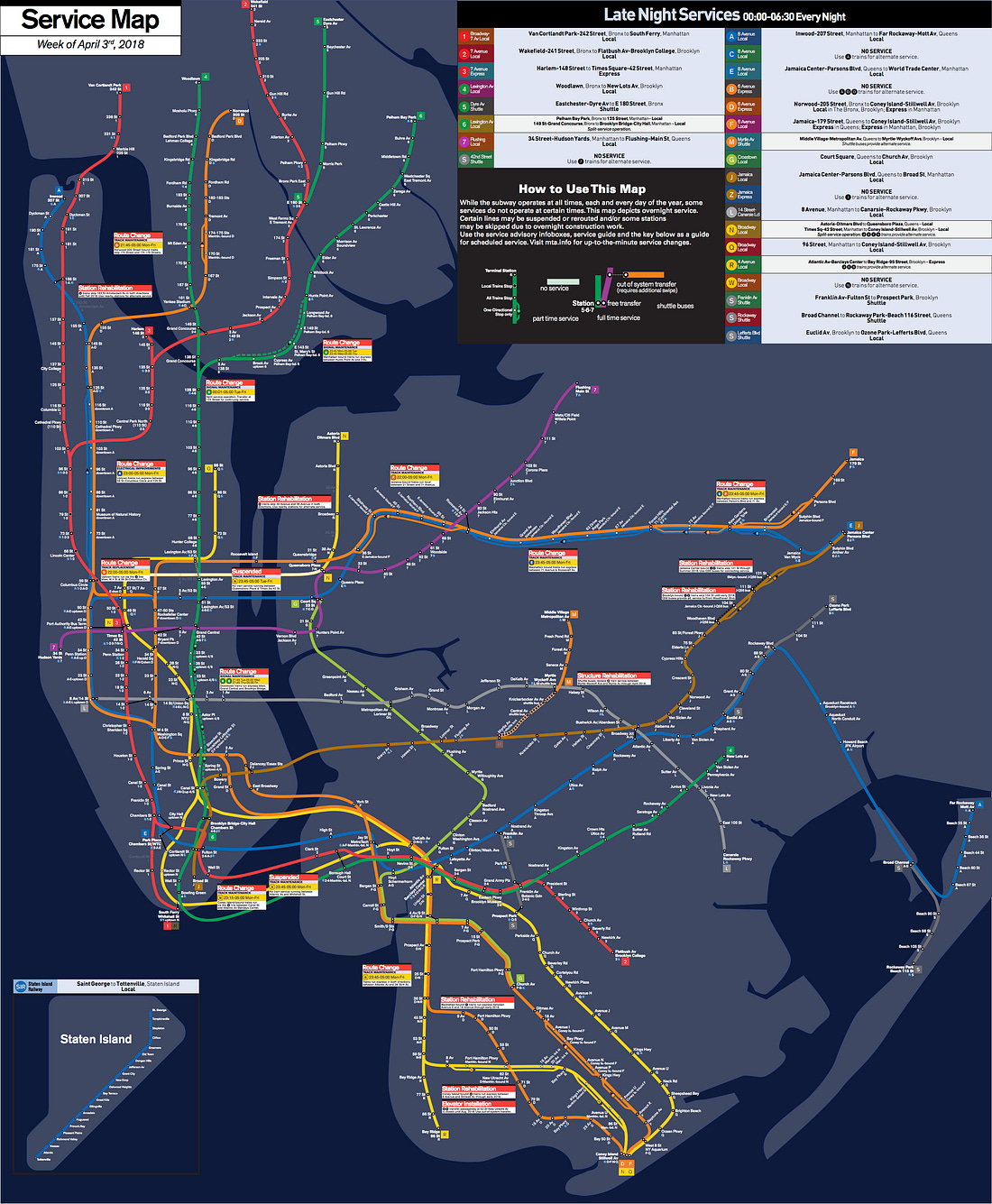 Full map here
Subway Detective Agency
Have a weird question about the subway you've always wanted to know? Send it to aaron.wittes.gordon@gmail.com.
This week's question comes from Emily:
I recently started a new job and commute from Crown Heights to Columbus Circle on the A. Over the past two weeks, I've realized that my trip consistently takes 10-15 minutes longer going into Manhattan than it does going out (sometimes more, because the A). For the life of me I can't think why this would be. Surely ridership and the number of trains running are about the same at the beginning and end of the workday, right?
I swear I didn't plant the question this week so I could talk about signal timers again. This one is authentic, and it's a fantastic example of how timers make our trips longer.
Yes, it really does take longer for A trains to run northbound than southbound, and yes it is mostly because of the signal timers, which I'm told have been far more heavily installed on the northbound track than southbound.
What we're seeing here is a great case study of how timers impact journeys. It's not that timers are causing A trains to go so much slower that the same journey takes 15 minutes longer. Instead, they slow the trains down so, for example, the merge to go under the East River gets clogged (which I wrote about in the Knowledge Base) because the schedule, rather than causing trains to arrive at the merge at different times, results in them getting there at the same time. This causes "train traffic" (a real thing when a railroad isn't properly managed) that can be all too predictable during rush hour.
There are some other smaller factors—northbound is slightly uphill, there are some weird track layouts that slow things down a bit at certain points—but those are accounted for in the official schedule, which generally allows for an extra five minutes between Broadway Junction and 59th Street when traveling northbound vs. southbound. You can thank the other 5-10 minutes of delays you typically experience on the timers.
Meanwhile, in the Rest of the World
While New York continues its debate about how severely to punish turnstile jumpers, Paris joins the growing list of cities contemplating free transit for all.

LA is getting its own little L Train shutdown, with the Blue Line planned to close in phases for needed upgrades. It carries 70,000 passengers a day.

Speaking of Blue Lines, Montreal is expanding its own, along with a slate of other transit-oriented projects. "The electric-powered transit lines fall into the government's theme of improving Quebecers quality of life through improved transit, as well as its commitment to clean-powered transport." Sounds nice.
MTA Mention of the Week
Since deleted, but: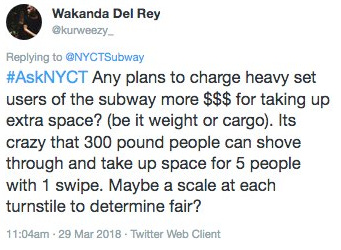 Dog in a Stroller
Have a dog in a bag photo? Reading this on the subway and see a dog in a bag? Take a picture and send it to aaron.wittes.gordon@gmail.com.

Credit: Carolyn Gearig
---
Hey, since you made it all the way to the end, it is possible you're enjoying this newsletter. If so, please do me a favor and help spread the word, perhaps by using the nifty sharing buttons below or telling a few friends using out-loud words. A lot of work goes into making this newsletter every week, believe it or not, and sharing it with others who might enjoy it too is the best way you can say thanks.