Stories we tell
Every budget tells a story. Sometimes, the stories are difficult to read and have many competing interpretations. Other times, the authors come right out and tell you what the moral of the story is. That doesn't make it the only moral, but at least their intentions are clear.
During a presentation to the MTA board on Thursday, CFO Bob Foran took the latter approach. He made it clear that the agency's cost-cutting goals for recurring expenses have pretty much run their course. They're having a hard time finding additional savings. "The low hanging fruit," he lamented, "is gone."
Coupled with lower-than-projected revenue over the coming years, the MTA is in dire financial straits. They need more money.
The headline item, of course, was the proposed fare increases, with the flotation of service cuts on the horizon getting second billing. To be clear, the board did not vote on anything except to begin the process to raise fares. It's not at all certain what any new fare structure will look like—although the MTA did put forward two options—or whether the board would even vote for it.
I haven't had a chance to comb through the 600+ page financial report released on Thursday. In fact, some board members were so irked that they would not have another chance to discuss this material before voting on the proposed budget in December that they agreed to hold another meeting in the next few weeks. So there's plenty more information and debate to come.
That being said, this budget's story is not about what the MTA is telling riders. It's about what the MTA is telling its funders, most importantly the lawmakers in Albany.
How do I know this? The titles of each slide in the presentation tell a pretty clear story. I will paraphrase that story:
We need more money. We already knew we'd have very little money, even if we make riders give us more money. We don't want to make riders give us more money, but we have to, or else we'll have even less money. This isn't our fault. We've tried everything, but we're running out of ways to save money. We could provide a worse product, but even if we wanted to, it would barely save us any money. In sum, please give us more money.
It's a good story! But like many stories, the authors are writing a clean narrative for the sake of clarity and brevity. In this way, the full 600+ page report is akin to the reporter's notes, which provide all those messy details and reveal how the story could have been told differently, without even getting into the issue that this is absent capital program expenditures, a whole other budget with its own spending problems.
Since July, the MTA lowered projected revenue by $485 million over the next four years—the biggest adjustment in the new plan—due to lower ridership. As the MTA's presentation from July made clear, there are many reasons for lower ridership. The board preferred to focus on fare evasion, even though at this point the MTA has presented no evidence whatsoever to suggest fare evasion is a bigger problem now than it was two or four or ten years ago (the MTA promises a robust presentation on fare evasion next month, which will hopefully clarify this issue).
That being said, there is plenty of evidence to suggest poor service, particularly on nights and weekends, is the biggest driver for declining ridership. Weekday ridership impacted by construction nearly doubled from 2017 to 2018. Similarly, weekend ridership is down 7.3 percent year over year. Why? Because weekend work has doubled over that time. If a large portion of the subway system is not running, a large portion of potential riders will not use it. Many things about the subway system are complicated, but this is not one of them.
Further, the Subway Action Plan has been a key driver of those service changes. Notwithstanding the questionable benefits it had for the system, Byford admitted that the agency hasn't fully analyzed the revenue impact of the Subway Action Plan in terms of lost ridership, conceding "I think it's probably not as advanced as it needs to be." But he rightly added any such analysis would be tricky and imprecise.
Still, this general issue of how planned work affects ridership—and therefore revenue—isn't going anywhere soon. The L shutdown, for example, begins next year. The MTA predicts the vast majority of trips will still take place within its ecosystem, but it's easy to imagine ridership falling due to discretionary trips not being taken or a higher-than-projected rate of folks opting for rideshare or bicycling instead. Indeed, the MTA now predicts a 1.1 percent decrease in ridership in 2019, following a 2.8 percent decline this year. This is a major revision from the July plan, where they predicted ridership *increases* in 2019 and 2020 despite acknowledging the L shutdown. Their logic: the economy is good.
These explanations are more confusing than insightful. Pegging ridership trends to future employment projections may be accepted practice but it's been demonstrably unreliable in recent years due to fundamental changes in how we work, shop, and travel. I, for one, anticipate the July 2019 plan to further revise ridership downward due to the impact of the L shutdown as people work from home or a local coffee shop more often, don't travel to Williamsburg on weekends, and ditch a monthly Metrocard as a result.
But there's an even bigger red flag in their ridership projections. If the MTA does get funding to move ahead with the Byford Plan, entire trunk lines in Manhattan as well as major branches in Queens and Brooklyn will be shut down on nights/weekends for months if not years on end. In other words, the most extreme planned work shutdowns in the city's history will occur in the next decade if Andy Byford gets his money. Ridership will almost certainly suffer.
That's not an argument against doing the work, but merely a consideration therein, especially when projecting budgets. But, as of now, the MTA is predicting flat ridership for 2020-2022. Of course, the MTA cannot budget for a plan that has yet to be funded, but they don't even flag this as a potential risk. This is emblematic of the agency's tendency to get caught flat-footed by predictable ridership trends.
Still Foran cautioned against reading too much into the 2022-2024 projections, otherwise known as the "out years," because predictions that far out are less reliable. This could also serve as yet another suggestion that perhaps the service cut warnings, which wouldn't be applied until 2020, are more of a threat to politicians in Albany than an actual, serious proposal. (For what it's worth, my early prediction is the board will vote for fare increases but won't entertain service cuts, at least not directly.)
Acting MTA chairman Freddy Ferrer took a more existential approach to even some of the near-term predictions. "Bear in mind," Ferrer cautioned, "we haven't shut the L line down yet. So a lot of this is an estimate. What we may lose in subway ridership we will undoubtedly pick up in bus ridership." (This is very much in doubt.) "So will it be person for person? I don't know, we don't know, it is not knowable right now."
What I do know is there's one moment from the press gaggle that's sticking with me, because it doesn't mesh with the story we were told. Among all this talk about dedicated revenue streams, congestion pricing, and all that jazz, AM New York transit reporter Vin Barone asked Ferrer if the agency has truly exhausted all of its options when it comes to cost-cutting. For example, Barone cited, health care takes up 13 percent of the MTA's budget.
"I'm not even going to get into a debate about health care," Ferrer replied, because it's "not my job," but also because "that's very important to the men and women who work for the MTA and all of our agencies, for their families, for their children."
As I'm sure Barone knows, the MTA's biggest union contract, with TWU Local 100, expires in May. Barone didn't say anything about health care not being important, just that perhaps there are some efficiencies to be gained in the $2.1 billion the MTA will spend on it next year. But that's not the story the MTA is telling.
"But I can tell you this," Ferrer said, "we need the revenues as soon as possible."
News You Probably Can't Use, But About Which You Can Certainly Brood
In case you missed the special Wednesday edition of Signal Problems on Amazon HQ2, you can read it right here. (Also as good a time as any to remind everyone that the entire Signal Problems archive can be accessed at signalproblems.substack.com/archive which I link to at the bottom of every edition.) This special edition got a lot of positive feedback so I'm working on a plan to bring you more. Stay tuned.

Now, for some good news: the subway continues to improve. A few highlights:

For the second straight month, the MTA hit Byford's goal of reducing delays by 10,000 per month. There's been some confusion about what this goal really means since it doesn't obviously state the baseline. So, an easier way to think about it is the MTA set the goal of having fewer than 2,570 delays per weekday and 1,700 per weekend day (I imagine the MTA doesn't put it that way because it still sounds like a lot of delays, which it is).

On-time performance exceeded 70 percent for the first time in more than three years.

These two metrics tell me operations are improving. These improvements kicked in shortly after Byford's 10,000 delay reduction plan was announced, which suggests to me this is more about Byfordian efficiencies than Subway Action Plan fruits.

Perhaps you heard by now that MTA chairman Joe Lhota resigned a week ago, less than a month after telling us members of the press that he intended to serve his full term. Several outlets wrote about Lhota's resignation including the Times, Gothamist, AMNY…well, everyone, really, so there's no need to restate what's already been covered. Since then, the open question of why Lhota resigned so suddenly rather than, say, finishing out the year gained at least one plausible explanation.

Fair fares, a program to provide reduced-fare 7-day and 30-day Metrocards to low-income New Yorkers, will go into effect in January. It will be administered and paid for by the city and have no budgetary impact on the MTA. At least to start, there will be no single-ride option. Still, this program provides a very necessary and needed counterweight to the expected fare increases. I'll also be curious to see if it has any impact on ridership.

Assemblywoman Amy Paulin has publicly vowed to conduct "rigorous, public oversight" hearings on the MTA during the upcoming state legislative session that begins in January.

Every quarter, the MTA reports extended elevator availability statistics. There were 203 "entrapments" in the third quarter of 2018 across all subway station elevators. These stats do not include the hour-long entrapment at Clark St which occurred on the first day of October. But, there were four other entrapments at Clark St in Q3. Good thing they…fixed it?

Speaking of subway elevators, a low-key problem is that privately owned and operated elevators perform just as poorly, if not worse, than the ones the MTA owns. Well, I guess it's not low-key anymore thanks to work done by TransitCenter. The elevator at Barclays Center is a particularly egregious example.

Good governance watchdog Reinvent Albany called for the MTA to conduct a "lessons learned" study on the Flushing line CBTC project, which is set to wrap up this month, given that Byford wants to do this same project to every other CBTC-less line and the project is five years late and at least $157 million over budget. I, for one, think that's a splendid idea.

If you've noticed more people standing on the Metro North New Haven Line lately, you're not imagining things. Some trains are shorter than they used to be because Metro North has to take cars out of service to equip them with Positive Train Control (PTC) equipment. Unfortunately, this isn't going to end any time soon. Metro North decided not to equip the old M3 rail cars (which began service in 1983) with PTC since they'll have to be retired soon anyways. They did order 66 new cars to help replace some of those M3s, but they won't be delivered until the end of 2019.

Some more details on the New Fare Payment System (NFPS): it's scheduled to launch in May on the 4/5 from Grand Central to Atlantic/Barclays and all Staten Island buses. And, Visa and Chase officially announced they're bringing Tap-To-Pay to many of their cards starting next month.

As expected, Con Ed is going to pass the cost of fixing and upgrading subway power systems onto you and me.

Penn Station Is A Hot, Hot Mess: Crowded LIRR Platform Edition.

I had fun chatting with Matt Peterson at The Atlantic about what ails the MTA. The interview was for The Atlantic's premium subscription service, The Masthead, but Matt was kind enough to let me link to the interview here so Signal Problems readers can check it out for free. If you'd like to learn more about The Masthead or sign up, you can do so here.
In Which I Make An Educated Guess About When Things Will Get Better
This week's estimate: June 2022
I was planning on updating this after the election, but with Lhota resigning, subway performance improving, the Senate flipping, and big budget questions looming, it feels like we're at a critical inflection point where things could go either way. Stay tuned.
Change log (the links are where I explain the change):
May 25, 2018: June 2022
March 30, 2018: 2030
March 16, 2018: 2024
February 2, 2018: 2021
January 20, 2018: 2020
Your Upcoming Service Advisories, Provided by Lance from
Subway Weekender
Note: the service advisories reflect the most disruptive changes. Be sure to check the maps or the MTA website for a full list of service changes.
Weekend:
3 – No service between 96 Street and 148 Street

4 – No service between Bowling Green and New Lots Av

A C – Uptown service is express-only between 59 St-Columbus Circle and 168 Street

E R – Jamaica-bound service is express-only in Queens

J – No service between Crescent St and Jamaica Center

L – No service between Broadway Junction and 8 Avenue

N – All service runs via R line between Canal St and Atlantic Av

Q – No service between Prospect Park and 96 Street
Late Nights (Monday-Wed only due to the holiday) :
2 – No service between Chambers St and Atlantic Av

6 – No service between Hunts Point Av and 125 Street

7 – No service between Queensboro Plaza and 34 St-Hudson Yards (Tue. morning only)

E – No service between Briarwood and Jamaica Center

F – Queens-bound service runs via E line between Rockefeller Center and Roosevelt Av

L – No service between Broadway Junction and 8 Avenue

N Q – Downtown service is express-only in Manhattan (Wed. morning only)
Meanwhile, in the Rest of the World
Transit, one of my two favorite apps for getting around cities, raised $17.5 million in funding from…two car manufacturers? Late-stage capitalism is the damnedest thing.

Three out of every four women who responded to an NYU survey said they had been harassed or the victims of theft on public transportation, whereas less than half of male respondents said so. 88 percent who experienced harassment didn't report it to the authorities.

Every time electric buses come up in conversation, Byford says he's excited about the future and wants to have an all-electric fleet by 2040, but the technology isn't there yet. People generally don't like this answer, especially when it's in the context of the L shutdown replacement bus service, and reply with something like "China!" But Byford, who runs a transit system that is not in China, is right. See, for example, that Albuquerque just cancelled their electric bus order because, well, they don't work. "No one will make an electric bus to our specifications because they say it's not possible," the mayor said. "No other company will do it. There's no option for electric. We'll go with a version of clean diesel or gas, then we'll look to phase in electric once the technology catches up."
Subway Eating Story
If you have a subway eating story (that doesn't involve someone making a mess because we don't want to encourage that type of behavior) send it along to signalproblems@substack.com.
This week, Julia Reinstein brings us two haunting tales from a 16-hour span:
Back in 2016, I had a "subway food" experience that shook me to my very core. It was August on the Union Square NQR platform, blistering hot and so packed with sweaty people, the kind of heat that makes you worried you're going to faint and fall on the tracks. I looked to my right and what did I see? A woman pulling something out of her Trader Joe's bag. It was a little carton of half-and-half. She pulled it out, opened it, and took a hearty glug. 

It was the most disturbing thing I've ever seen.

The following morning, also on a subway platform, I saw a man in a suit eating scrambled eggs. Out of a Ziploc bag. With his hands. Just scoopin' in those scrambles like his hands were small meaty shovels. These two distinct experiences happened just about 16 hours apart and I will never forget them.
This city is full of such tremendous weirdos. I love it.
David Roth's
Esteemed Subway Rider of the Week
From Thursday's disastrous evening commute:
So, I think our passenger of the week is the small brown and white dog that I watched struggling to stay awake for the entirety of my 35-minute ride between Grand Central and 86th. I admired his equanimity, although I couldn't match it.
Dog in a Bag
MTA Rules of Conduct Section 1050.9 Subsection (h) Paragraph 2: no person may bring any animal on or into any conveyance or facility unless enclosed in a container and carried in a manner which would not annoy other passengers.
Have a dog in a bag photo? Reading this on the subway and see a dog in a bag? Take a picture and send it to signalproblems@substack.com.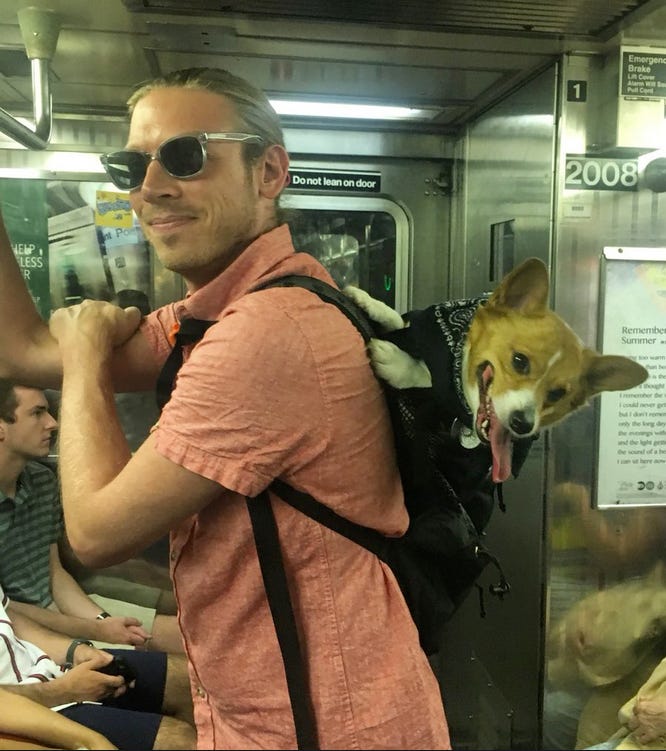 Photo credit: Meredith Clark
---
In last week's edition, I incorrectly linked to one of the New York Magazine profiles of Cuomo, the one where he brags about finishing the Second Avenue Subway. Here is the correct link.
---
This has been another edition of Signal Problems, a weekly newsletter helping you figure out what is going on with the subway, made every week by Aaron Gordon, freelance transportation reporter. Read on the web or view the archives at signalproblems.nyc.
If you're enjoying this newsletter, please share it with others. It's the best way you can say thanks.
As always, send any feedback, subway questions, or Dog in a Bag photos to signalproblems@substack.com. I'd love to hear from you. As someone on a stalled Q train once told me, we're all in this together.