Discover more from Signal Problems
A newsletter that used to be about what the hell is going on with the subway.
Over 7,000 subscribers
Huh.
For those who may have missed the news yesterday, the L shutdown is not happening anymore. Just like that. Instead, Cuomo and his panel of experts announced they only need to shut down one tube at a time on nights and weekends for 15-20 months. They're still going to add elevators and the extra substation as planned.
Cuomo and the MTA are painting this as a win for New Yorkers. And on paper, it is. "MTA Announces L Train Shutdown Averted," was the title of the MTA's press release, a remarkable declaration considering that very agency spent three years telling us it was unavoidable. The panel of experts claims they're using a "forward-thinking, innovative approach that relies on state-of-the-art technologies to rehabilitate this century-old tunnel." If you're curious to hear more, here's the press conference with Cuomo, the panel, and interim MTA Chairman Freddy Ferrer. Stick around long enough and you can hear Cuomo say he gave Tesla a call.
I'm far from an engineering expert, so I'm not going to weigh in on the potential pros and cons of this new "innovative approach." Suffice it to say, at this point, there are far more questions than answers. Even The Times, which has an institutional disposition of Never Being Confused, ended their explainer with "Still confused? So are we. Stay tuned."
There are so many questions. Here are just a few: can Judleau, the contractor doing the L shutdown work, do the new work, and what would modifying that contract on such short notice look like? How long will these innovative fixes last? What about all the track and third rail work that's no longer a part of the project but was supposed to help increase service frequencies? Or what about the 14th St busway, work for which has already begun? Or all the expensive station work at Marcy Ave, Broadway Junction, Court Square, etc. that has already started or in some cases been completed? How much money did the MTA sink into weekend work on the G, L, and J/M lines preparing for the shutdown?
There will be time to answer those. But, my biggest concern, and apparently that of several politicians, is how this move deeply, fundamentally undermines the MTA.
The MTA has spent years telling New Yorkers that the L shutdown is necessary. They've held dozens of public meetings where MTA and DOT officials got shouted at by members of the public questioning their expertise. They made an honest effort to be transparent. People without any modicum of engineering knowledge excoriated MTA officials for being ignorant or missing key details. All those people who shouted at MTA officials must feel vindicated today, because the Governor of New York has agreed with them.
Make no mistake, this about-face will have long-term consequences. It is already having an all-too-predictable effect on morale inside New York City Transit among the hundreds of people who worked on the shutdown plan. Someone who worked on the preparations told me, "Basically, nobody at the agency knows what's going on. Operations Planning has no clue what the plan is now…This was foisted on NYCT with no warning to the people who actually make the plans." That person further assured me these are common sentiments throughout the building today. And, in what I'm sure is merely a coincidence, SVP of Capital Projects John O'Grady retired last week; he was hired in 2016 and hailed in a press release as having "demonstrated the ability to embrace innovation and find new ways to improve how we make investments throughout the system."
In a statement to Signal Problems, MTA spokesman Shams Tarek responded, "We have a huge development in a major construction project that frees 400,000 riders a day from the extreme hassle of a tunnel shutdown. There's a lot of work to do quickly and our dedicated staff at all levels will approach this the same way they do every tough challenge: with laser-focus and tireless energy to deliver the benefits of this new plan to our customers. Much of the current plan will remain intact and President Byford is convening a series of meetings and briefings immediately to organize next steps."
I don't want to dismiss the benefits this new plan may have. Hell, I more or less paid my rent last year with dozens of stories about what a nightmare the L shutdown was going to be. All else being equal, not subjecting 400,000 riders to that inconvenience is a great thing.
But is all else equal? It's quite possible that the L will be a mess during the 15-20 months of work anyways because of a hastily cobbled-together plan (it doesn't take much debris on the tracks to cause delays in the tunnels). For all the flaws with the L shutdown plan, the MTA truly did consider every possible option. I truly believed, and still do today, that they did everything they could to make the L shutdown as manageable as possible. Will they be able to do the same with this new plan, given only 114 days' notice?
It's also possible that a decade or two down the road, perhaps after another big storm, we might find out this "innovative" fix wasn't that innovative after all. Cuomo said it is "really a unique design, a unique system." Another way of saying "unique" is "untested." The line between innovative and foolhardy can be thinner than we like to admit. We will find out which this is in time, but when we do, the governor won't be around to care, just as he couldn't be bothered to care about the L shutdown before last month.
But that's not what I'm most concerned about. Right now, I don't know how the MTA, as an agency, recovers whatever credibility it had left. What happens the next time the MTA determines a major public works project must be undertaken? Who is going to take them seriously? Who is going to defer to their expertise? What does this mean for Byford's upcoming appeals to the state legislature to give him some $60 billion? Are elected officials going to say "we believed you about the L shutdown being necessary, why should we believe you now?" I suspect Byford will try to spin it as a sign of the agency's nimbleness and willing to accept best ideas, but I don't know how that will play.
This is far from the last word on the subject, but if Cuomo can convene a panel of experts who in three weeks completely trash three years of MTA planning, then this is not merely about the L shutdown. This is about the MTA, where it goes from here, and how it can possibly do its job going forward. It's no secret Cuomo doesn't think much of the MTA as an entity, and his experience micromanaging the Second Avenue Subway seemed to teach him the agency is only good if he's running the show. I don't know where any of this goes from here, but I wouldn't be surprised if we look back on this mess as a sign of more drastic changes yet to come.
---
If you're enjoying Signal Problems, consider becoming a paid subscriber today to get 50 percent more Signal Problems while supporting the free edition:
---
This Financial Times deep-dive into how London's Crossrail project hit snag after snag worth taking very seriously with respect to the Whatever Should Be Done About The MTA conversation (sometimes it's beyond a paywall sometimes it's not ¯\_(ツ)_/¯). Crossrail is a massive 73-mile new railway line straight across London with 26 miles of new tunnels and 10 new stations in dense London neighborhoods. The £16.8 billion project will be about £2.2 billion over cost and years late. Yes, this qualifies as a scandal in UK rail. Anyways, a ton of lessons throughout.
One industry consultant told FT:
"Industry often doesn't want to tell politicians the true story as they want the work, the politicians don't know enough so take the view of the salesmen, who are going to push the latest, new technology even if it's untested. And the management often doesn't care because they know they won't be there when the project isn't delivered on time and to budget."
Another said:
"You always have a lot of baton changes on large-scale projects like this. So although they will have been suppressing bad news, none of the people who were round the table at the beginning are still there — it's the nature of careers that no one stays for 10 years."

This started to tell as the whole scheme neared completion. "If everyone is managing small risks themselves, who has the oversight to see the bigger picture?" says another source close to the board.
---
Before the new year, Cuomo quietly signed the transit lockbox bill that has been sitting on his desk for months. So quietly, in fact, that I can't find an article about it! Good governance watchdog Reinvent Albany said the law will make it "politically more difficult to raid transit funds by requiring the state budget director to issue a 'diversion impact statement' detailing how the diversion of funds will impact riders in the form of changes to transit service, safety and maintenance."
---
The Hudson Link, what was once supposed to a Bus Rapid Transit system across the new Tappan Zee Bridge, is a bastardized version of the one proposed years ago and borders on uselessness.
---
The PATH train loses a lot of money, which is par for the course for a transit system, but unlike the MTA and other transit authorities, the Port Authority has no ability to tax to make up revenue shortfalls. It can, however, move money from its airport and seaport operations. Although, here's one element to consider in the PATH budget questions:
---
For a few months, Corey Johnson is going to be both City Council Speaker and Public Advocate, giving him a short window to do some serious flexing. Apparently, one of the issues on his radar is pressuring the city to take back control of the subway.
---
The NYC Democratic Socialists of America interviewed a subway signals maintainer. Two bits stuck out to me:
We've been understaffed by about 200 signal maintainers for a very long time. Overtime is the norm, and unplanned mandatory overtime is more or less the standard response to equipment failure. There is a constant push to keep maintenance numbers up that doesn't do a very good job of considering what is actually possible. Last year the MTA put out this six point plan to improve service. One of the bullet points touts "a new, intense preventive maintenance program that targets components most prone to fail." [Note: this six-point plan was basically rolled into the Subway Action Plan.] What this meant internally was that they cut the testing interval from 30 to 15 days on a lot of equipment—effectively doubling the workload. There's a lot of pressure on supervisors and workers to do something that isn't really possible.
And:
There needs to be a complete overhaul of the track safety rules. I'm all for track safety—I don't want to get hurt out there and I don't want anyone else to either. But safety rules need to have a clear safety-related benefit, they need to be easy to implement, and they need to be made in consideration of the work that has to be performed. Track Safety and in particular Track Flagging rules are none of those things—they are a complicated patchwork of rules that attempt to cover every possible corner case and track layout and work area. They lead to situations where you need four or five times as many people looking out for trains as actually doing the work. And they contain silly but labor-intensive activities that no one actually believes offer any safety benefit.
---
The Port Authority is rolling out electric shuttle buses at its three major airports, which is all well and good but electric buses will never counter the environmental costs of poor transit connections to the airports themselves (or, for that matter, the planes).
---
Fair Fares, the half-priced Metrocard program for low-income New Yorkers, was set to kick in on January 1, but as of yet, no word from City Hall on how to sign up. But that might have changed by the time you're reading this; de Blasio and Corey Johnson have scheduled a joint press conference for tomorrow (Friday) about the program.
In Which I Make An Educated Guess About When Things Will Get Better
This week's estimate: June 2022
Change log (the links are where I explain the change):
May 25, 2018: June 2022
March 30, 2018: 2030
March 16, 2018: 2024
February 2, 2018: 2021
January 20, 2018: 2020
Your Upcoming Service Advisories, Provided by Lance from
Subway Weekender
Note: the service advisories reflect the most disruptive changes. Be sure to check the maps or the MTA website for a full list of service changes.
Weekend:
2 – No service between 96 Street and 241 Street

3 – No weekend service

5 – Split service operations at E 180 Street (through service operates to 241 Street)

7 – No service between Queensboro Plaza and 34 St-Hudson Yards

A – No service between Howard Beach and the Rockaways

D – No daytime service between Bay Parkway and Coney Island

G – No service between Bedford-Nostrand Avs and Church Av

J – No service between 121 Street and Jamaica Center

M – No weekend service
Late Nights:
1 2 – Service is express-only between Times Square and Chambers St (downtown on Tue., Wed.; uptown on Thu., Fri)

4 6 – Downtown service is express-only between Grand Central and Brooklyn Bridge (Wed., Fri. mornings only)

7 – No service between Queensboro Plaza and 34 St-Hudson Yards

E – No service between Briarwood and Jamaica Center

F – Downtown service runs via E line between Roosevelt Av and Rockefeller Center

J – No service between Essex St and Broad St
Meanwhile, in the Rest of the World
Maryland's governor killed a Baltimore light rail extension and is using the money to build highways instead, including this $61.5 million expansion of a rural interchange that never has any traffic.
David Roth's
Esteemed Subway Rider of the Week
The best riders I saw this week were the three teen boys competing to do the best imitation of the "doors closing" bing-bong sound. None did a great job but I respected the effort very much.
Dog in a Bag
MTA Rules of Conduct Section 1050.9 Subsection (h) Paragraph 2: no person may bring any animal on or into any conveyance or facility unless enclosed in a container and carried in a manner which would not annoy other passengers.
Have a dog in a bag photo? Reading this on the subway and see a dog in a bag? Take a picture and send it to signalproblems@substack.com.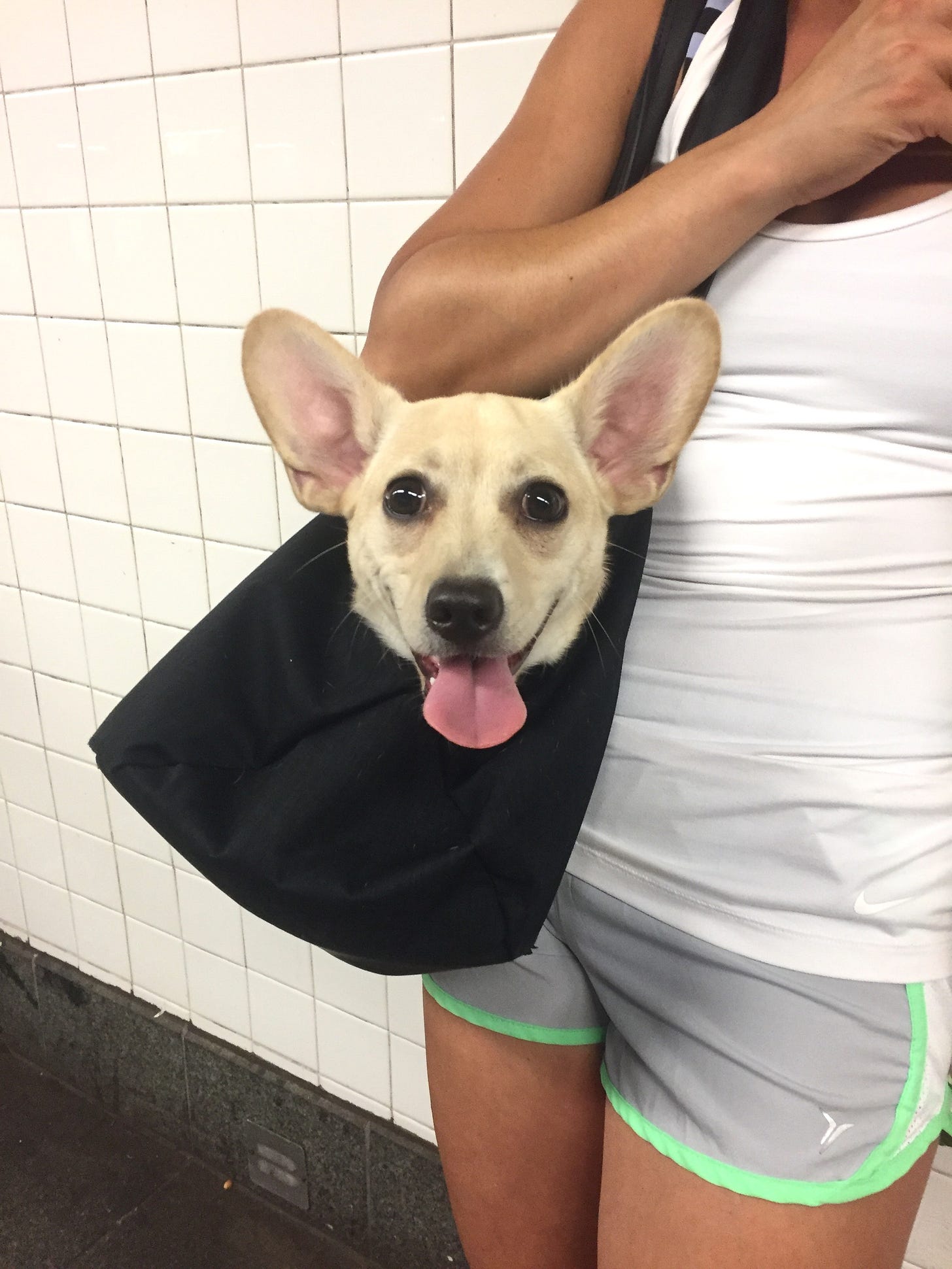 Photo credit: Perri Hofmann
---
This has been another edition of Signal Problems, a weekly newsletter helping you figure out what is going on with the subway, made every week by Aaron Gordon, freelance transportation reporter. Read on the web or view the archives at signalproblems.nyc.
If you're enjoying this newsletter, please share it with others. It's the best way you can say thanks.
As always, send any feedback, subway questions, or Dog in a Bag photos to signalproblems@substack.com. I'd love to hear from you. As someone on a stalled Q train once told me, we're all in this together.