Before we get started this week, I have three recommendations for you: a podcast, a newsletter, and an event.
The first is Chris Hayes's podcast Why Is This Happening. One of the reasons I love it is Chris never asks his guests to dumb things down. They go way into the weeds on everything. So it was my absolute pleasure to go on the show to talk about the subway, why it kinda sucks now, and why the subway's struggles are so important not just for NYC transportation, but for those of us who want more public services and want them to work well. And if this is your first edition after hearing that podcast and signing up, welcome!
The second is Walt Hickey's daily newsletter Numlock, a quick rundown of some of the most interesting stats of the day that help contextualize this batshit late-stage capitalism nightmare we live in. There is also a paid tier for Sunday editions featuring interviews with smart writers. I started subscribing when Walt made me laugh out loud for the third time in a week after only a few sips of my morning coffee. Normally I need to have at least 2/3 of a cup before considering a chuckle. So, if laughing sounds like something you might enjoy, go ahead and subscribe here.
The third is I will be hosting a panel conversation put together by Tech:NYC about improving transit. City Council Speaker Corey Johnson will be delivering the opening remarks and there's a very interesting panel lined up. It will be February 12 at the Williamsburg Hotel. RSVP here.
---
Even though New York has one of the world's great subway systems in terms of area covered, there are gaps that need to be filled. For the last 70 or so years, those gaps have been filled by buses.
For those who don't know, our buses are in a state of crisis far surpassing what is going on with the subway. Bus ridership system-wide is down 10 percent between 2012 and 2017, the last year for which numbers are available. The average weekday has 245,318 fewer bus riders than it did in 2012, which is roughly the equivalent of the entire population of Buffalo. Over the same time, the subway has increased its weekday ridership by 200,000, although subway ridership has also started to dip in recent years.
It's not rocket science why people are abandoning the bus. The buses are too damn slow. Very little has been done to make them faster. Anyone who has a choice will opt for something quicker. One of those quicker things has been the proliferation of Ubers, Lyfts, and other e-hail services, which have added tens of thousands of cars to the road. Those cars create traffic, which slow down buses even more.
That being said, New York City buses still have a ton of riders, the most of any American bus system by a long shot, because many people do not have much of a choice. Even after the five-year decline, there were still 1.9 million bus riders on the average 2017 weekday. That is to say, despite the fact that it's often faster to walk, as I wrote in Gothamist this week, almost two million riders a day still take the bus.
If the buses are so bad now, why do so many people still take them? As one woman told me when I asked if she could rely on the Bx19, "I don't have no choice but to wait and to rely on it." If you live in an area where the bus is your connection to the subway several miles away, or walking a mile or more to a subway is a challenge due to health reasons, or you're older and don't move around as well as you used to, or you are with a small child, or you're in a wheelchair, or you work long shifts on your feet, or the weather is bad, or some combination of all of the above and you don't have the disposable income to be hailing Ubers, then you need the bus.
The wholly predictable result of these changes is that the people who still depend on the bus are generally our city's most politically powerless. Bus ridership has higher percentages of lower-income, foreign-born, older, and person-of-color riders than the subway. This chart illustrates the divide, from an excellent 2017 City Comptroller report on the subject: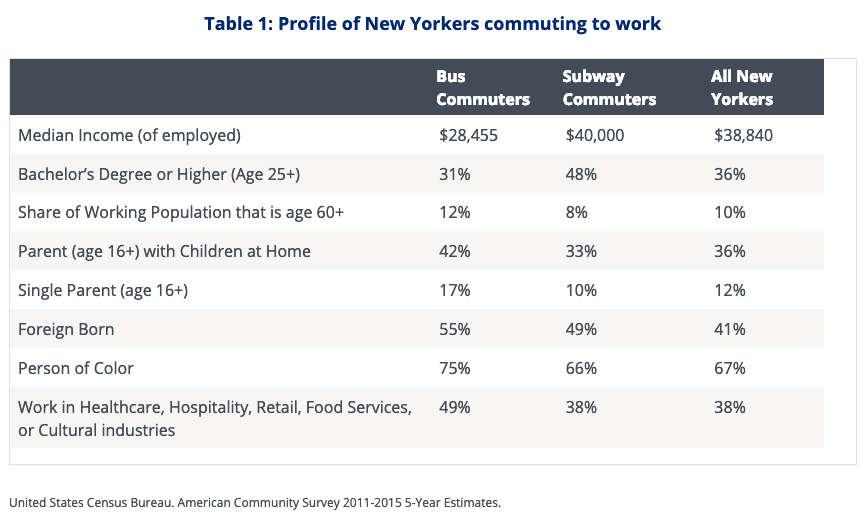 We often laud the subway for its remarkable cross-section of New Yorkers. Its riders encapsulate the city as a whole. The data backs that up. The data also supports a more disturbing picture of our buses: that we, as a city, have exiled our most vulnerable citizens to buses, an increasingly inefficient form of transportation. Those who are paid the least spend the longest time getting to work, effectively lowering already low wages. Those who are more likely to have children to care for spend longer picking them up from school. Those not born in this country are more likely to rely on the slower buses, limiting their access to job opportunities. Those who have a hard time physically moving around the city must resort to our slowest form of transportation.
At the same time, our political leaders have seen fit to invest hundreds of millions of dollars in a ferry system, one that almost certainly does not cater to such a laudable cross-section of New Yorkers (the city's economic development corporation, which runs the ferries, has thus far refused to release demographic data about its riders). I have written before about the relative merits of the ferries, but to summarize: they serve numerous high-income waterfront neighborhoods or otherwise ones with decent subway options. Plus, they require a massive subsidy to charge $2.75 per ride compared to the roughly $10 in actual operating costs, a far higher subsidy per ride than subways or buses. On top of all of that, the entire ferry network still has fewer riders than the Bx19 route. Just the Bx19 route.
In short, the ferries are undoubtedly nice for the few thousand people who use them on a regular basis, but launching a transportation service subsidized by hundreds of millions of tax dollars that features an on-board bar while almost two million of our most disadvantaged citizens are stuck on buses slower than walking pace is simply perverse.
The good news is that it appears the city and MTA—which share responsibility for the bus system—appear to finally be taking the issue seriously. One of NYCT president Andy Byford's four goals when he arrived was to revitalize the bus system, which included a top-to-bottom redesign of each borough's bus network by May 2021. The Staten Island Express buses were already done, and the Bronx is up next. The plan also adopts virtually all the recommendations made by the Bus Turnaround Coalition.
Indeed, this is part of what's made the slow, steady decline of the buses so galling. While the subway's struggles have been vexing and complicated, what ails our buses is painfully simple, and how to fix them even more so. In short:
Dedicated bus lanes with automatic camera enforcement

Transit signal priority, which gives buses as many green lights as possible

Redesigned bus networks to simplify routes and consolidate the number of local stops

All-door boarding so the bus doesn't spend minutes at crowded stops as riders queue at the front door waiting to board
These are not particularly expensive fixes given the relative benefits. Instead, the main impediment to these fixes is political. Only recently—as in, last month—has the mayor thrown his weight behind speeding up buses by basically saying yeah, do all those things everyone's been saying we should do for years, a necessary step because bus lanes and signal priority require the city's department of transportation to implement. Likewise, only with Byford's arrival last year has revitalizing the bus network become an MTA priority.
It's been difficult to generate political will to speed up buses because a key solution is to redistribute street space from cars to buses. In other words, we need to shift a public resource from the privileged to the vulnerable, from politically strong constituencies—not merely car drivers as a whole, but also strong local unions and public officials that bargain for the right to park wherever they want including bus lanes—to benefit some of the politically weakest and least organized, such as the working poor, people of color, and foreign-born New Yorkers who may not even be eligible to vote. Sound familiar? It ought to.
It was hard not to think about this context as I reported the Bx19 story. I spoke to roughly two dozen people on that route. Only one was white, and she was a middle-aged Eastern European immigrant working as a home health care nurse. This, anecdotally speaking, reflected the demographics of the ridership as a whole. The photographer of the story, a lifelong Bronx resident very familiar with the Bx19, said it was a fair assessment of the bus's typical demographics.
The main difference between interviewing bus riders versus subway riders is that subway riders typically have some expectation that service should be better, if not outright anger that it's not. However, most of the bus riders I spoke to didn't express any such expectation. Instead, they sighed a lot. It's always like this was a common refrain. They weren't just talking about bus service.
---
I'm really excited about the next paid edition going out to subscribers next week. It's a Q&A with someone who works on a fascinating project and has a lot of unique insights into subway history and how it relates to today, but I don't want to spoil it too much.
Consider becoming a paid subscriber to find out more and to help keep Signal Problems going.
---
---
The state legislature held a budget hearing about the MTA that was about as useful as their past budget hearings. David Meyer of Streetsblog live-tweeted the whole thing (god bless him) if you want to re-live it. The legislators asked a lot of bad questions and very few good ones! And for some reason the NY State Senate Democrats official Twitter account pull-quoted some of the most groan-worthy remarks but deleted one of the tweets.
---
Quick catch-up: last year, Albany passed a for-hire vehicle surcharge that was expected to raise $1 million a day for the MTA but then the TLC sued and a judge blocked the fee from going into effect at the last minute. Well the judge just lifted the temporary restraining order so the fee can go into effect soon, but the lawsuit is still going forward. That revenue, by the way, is earmarked for more Subway Action Plan stuff and $50 million a year for yet-to-be determined outer borough transit improvements.
---
A young woman died while carrying her infant daughter's stroller down the steps of the 7th Ave subway stop at 53rd St. The daughter survived. The medical examiner determined the woman, Malaysia Goodson, suffered from a yet-unnamed medical condition and she did not die from trauma. Regardless of the role the stroller-carry-down-subway-stairs played in her death, it doesn't change the fact that system-wide accessibility should have been done 30 years ago, ought to have been done 10 years ago, and is absolutely shameful and possibly in violation of federal law that it hasn't been done by now. On Thursday, TransitCenter released a map of the next 50 stations they'd like to see be made fully accessible by 2024. Whether that happens, as I have written before, is a question of priorities.
---
"Who would take that job?" Andrew Cuomo asked rhetorically about the MTA Chairman/CEO position. That's, uh, one way to recruit someone for a position you have to hire.
---
The Daily News editorial board attacked the "cowardly MTA board" for tabling a modest fare hike at the less-than-subtle hint from the Governor's office. The editorial urges the board to pass the fare hikes and attack the inefficiencies of "having three separate legal and human resources and procurement offices for the Transit Authority, the LIRR and Metro-North."
---
De Blasio is now on board with the new L tunnel plan, whatever that's worth. Seriously, let's reflect on this for a second: nobody seems to care what the mayor of New York thinks about a major construction project in the city that will impact hundreds of thousands of people. There are several contributing factors to this, but the most important one is how much De Blasio has distanced himself from all things MTA.
---
The MTA has partnered with Waze to add beacons to the tunnels coming into Manhattan so you can still get vital traffic updates like "driving into Manhattan was a terrible idea."
---
Maxwell Young, a former aid to Senator Schumer, is now the MTA's Chief External Affairs officer, a newly-created position that reports to the MTA Chairman/CEO. He will be overseeing "policy, communications, and government affairs."
---
Corey Johnson announced he's likely running for Mayor in 2021. He also launched a bus rider survey like the subway survey a few weeks ago. You can fill it out here.
---
I could have sworn this "international pickpocket rings" story was going around a month ago but no, it was only earlier this week. I've completely lost all track of time. Anyways, it was a good story.
In Which I Make An Educated Guess About When Things Will Get Better
I really need to update this. The problem is I'm simultaneously becoming more optimistic about the short term and pessimistic about the long term. I can't figure out how to balance those two outlooks into one prediction.
This week's estimate: June 2022
Change log (the links are where I explain the change):
May 25, 2018: June 2022
March 30, 2018: 2030
March 16, 2018: 2024
February 2, 2018: 2021
January 20, 2018: 2020
Your Upcoming Service Advisories, Provided by Lance from
Subway Weekender
Note: the service advisories reflect the most disruptive changes. Be sure to check the maps or the MTA website for a full list of service changes.
Weekend:
4 – Reduced service between 125 Street and Woodlawn

C – All service is express-only in Manhattan

D – 

No service between Broadway-Lafayette St and Coney Island

All service runs via C line between 59 St-Columbus Circle and W 4 Street

All service is local-only in Manhattan

E R – Manhattan-bound service is express-only in Queens

J – No service between Crescent St and Jamaica Center

L – No service between Broadway Junction and 8 Avenue

N – All service runs via D line in Brooklyn
Late Nights:
4 6 – Downtown service is express-only between Grand Central and Brooklyn Bridge (Wed., Fri. early mornings only)

6 – Split service at 125 Street

7 – No service between Queensboro Plaza and 34 St-Hudson Yards

E – Jamaica-bound service is express-only in Queens

L – No service between Broadway Junction and 8 Avenue

Q – Uptown service runs via R line between DeKalb Av and Canal St
Meanwhile, in the Rest of the World
I really like the way Oslo approached making their city center car-free: "In 2015, when a progressive political coalition came to power in the city council, they started planning a more significant transformation. At first, they called for a full ban on cars because the majority of residents in the city center didn't drive. But when business owners objected, worried that they'd lose customers and have problems with deliveries, the government changed focus to remove parking spots–a slightly more gradual approach. For now, there are still parking garages on the periphery of the center."

Uber has launched a rewards program that incentivizes car usage. As Reilly Brennan's Future of Transportation newsletter notes, "The incentive structure for point gathering seems at odds with the CEO's recent statements about the company's goals to reduce vehicle trips."
Dog in a Bag
MTA Rules of Conduct Section 1050.9 Subsection (h) Paragraph 2: no person may bring any animal on or into any conveyance or facility unless enclosed in a container and carried in a manner which would not annoy other passengers.
Have a dog in a bag photo? Reading this on the subway and see a dog in a bag? Take a picture and send it to signalproblems@substack.com.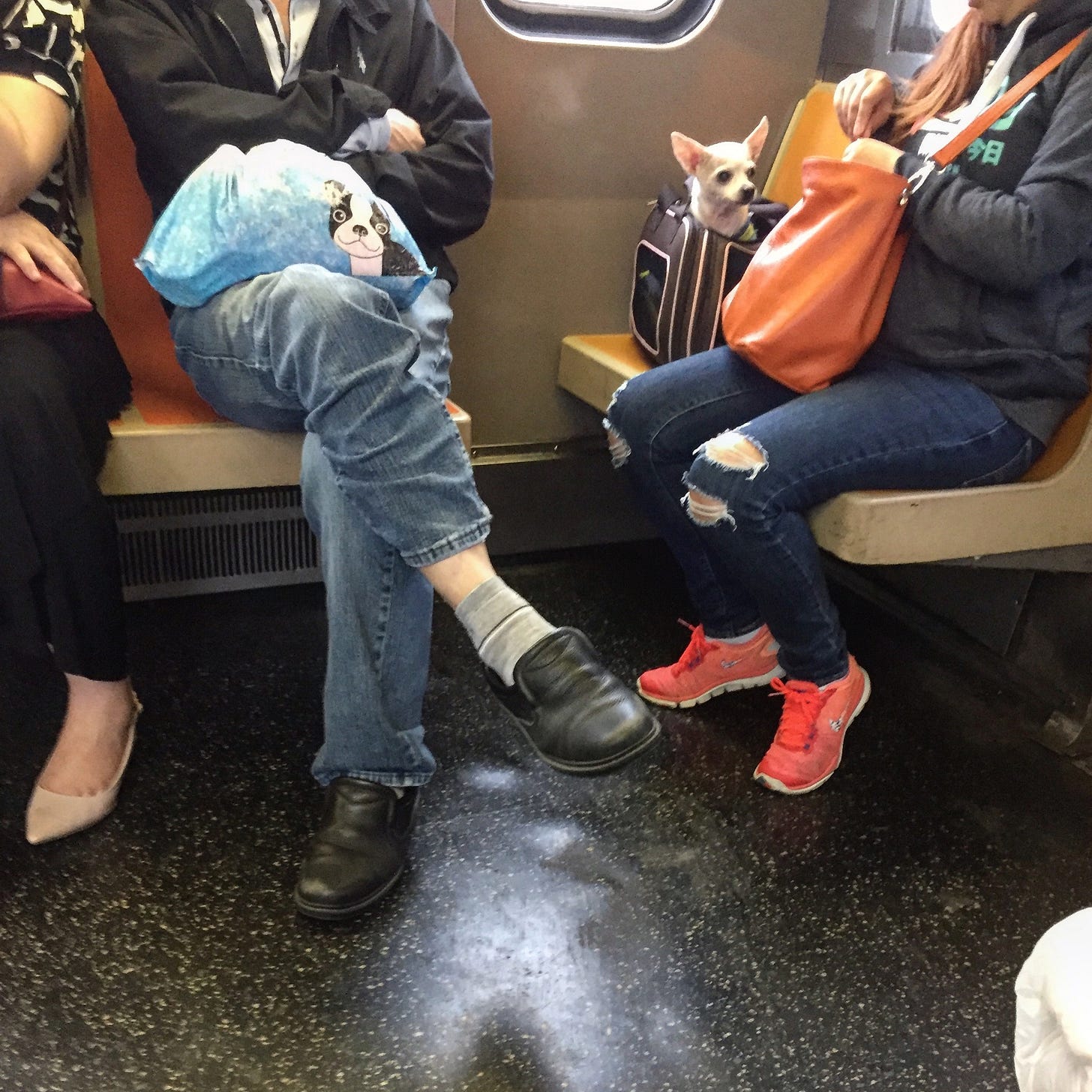 Photo credit: Nora
---
This has been another edition of Signal Problems, a weekly newsletter helping you figure out what is going on with the subway, made every week by Aaron Gordon, freelance transportation reporter. Read on the web or view the archives at signalproblems.nyc.
If you're enjoying this newsletter, please share it with others. It's the best way you can say thanks.
As always, send any feedback, subway questions, or Dog in a Bag photos to signalproblems@substack.com. I'd love to hear from you. As someone on a stalled Q train once told me, we're all in this together.