August 3, 2018: Inside the Death Spiral
Recent developments have me thinking more carefully about whether NYC is experiencing the dreaded transit death spiral. They're developments pretty much everyone has written about this week, but they're issues I want to expand on here because I think other reports haven't quite captured the whole picture.
For those who might not be familiar, the dreaded transit death spiral goes like this: people, for whatever reason—but usually austerity measures, poor service, and/or service cuts—start opting for non-public modes of transit, lower transit ridership leads to less revenue and service cuts, service cuts lead to lower transit ridership and less revenue, etc. etc.
Last week, the City Council proposed a slate of bills which, among other things, sets a minimum wage for ride-hail drivers—through a really clever formula that reduces idle time and the cut e-hail companies take—and introduces a freeze on new for-hires registering with the city for one year. In official statements, Uber has supported the minimum wage part and opposed the cap. In practice, Uber and Lyft have launched a seven-figure doom-and-gloom marketing blitz warning riders their service will basically stop working or become really expensive if the laws pass. (In the companys' PR messaging, their support for the minimum wage bill has been condensed to "while some parts are worthwhile…" which is a galling way to write off a genuinely novel fix for their industry's exploitative nature.)
I have already written about Uber's claims for Gothamist so I won't repeat myself here. But one of the main critiques of the City Council plan is that, with the crumbling subways, for-hires serve as an increasingly important backup option for commuters when, say, a routine re-route turns into an all-morning meltdown because of a typo.
And there's truth to that. In a recent insightful NYCT report about ridership trends, we got our best look yet at the declining ridership picture. It turns out to be a simple one: people are taking the subway less because of bad service.
In 2016, weekday ridership during non-peak hours started falling. In 2017, the year of the Subway Crisis, even peak hour ridership fell.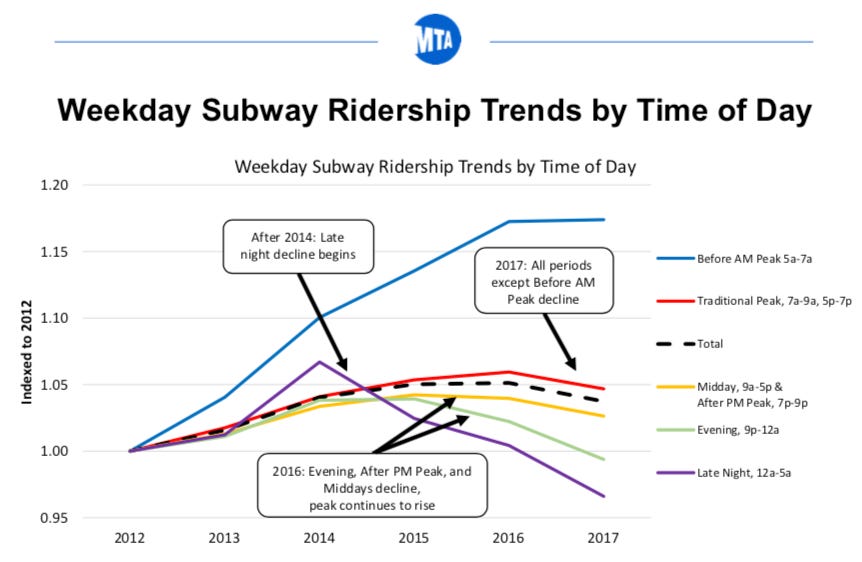 As it happens, 2016 is also the year regularly-occurring mystery delays overtook delays caused by "incidents" for the first time, suggesting riders voted with their feet to avoid consistently poor service (graph from my Signal Timers story):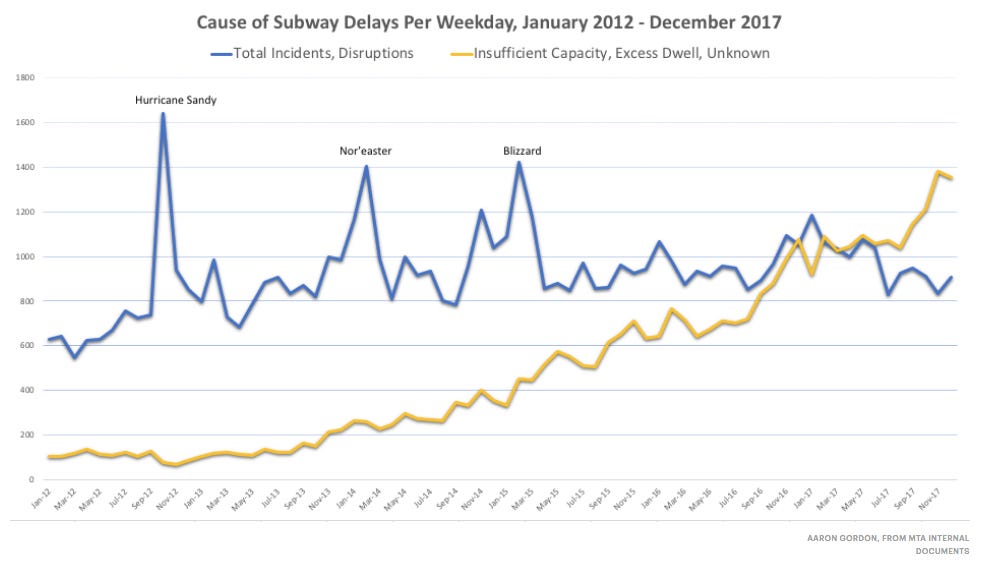 Meanwhile, ridership in the Bronx and Queens fell faster than in Brooklyn and Manhattan, indicative of the fact when service disruptions occur in boroughs without nearby subway alternatives, people choose other modes of transit.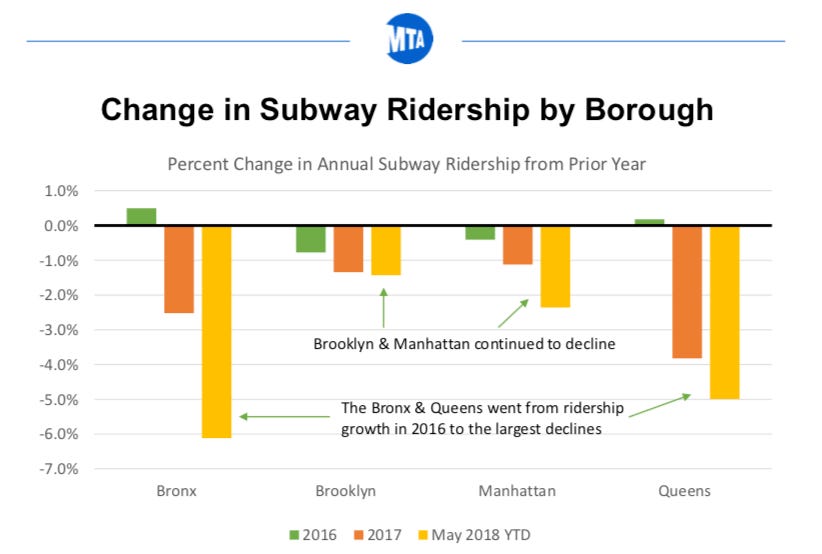 And it's not that people are simply going fewer places. People are taking the same amount of trips across all modes of transit, NYCT found, but replace the subway with other things—mainly, FHVs: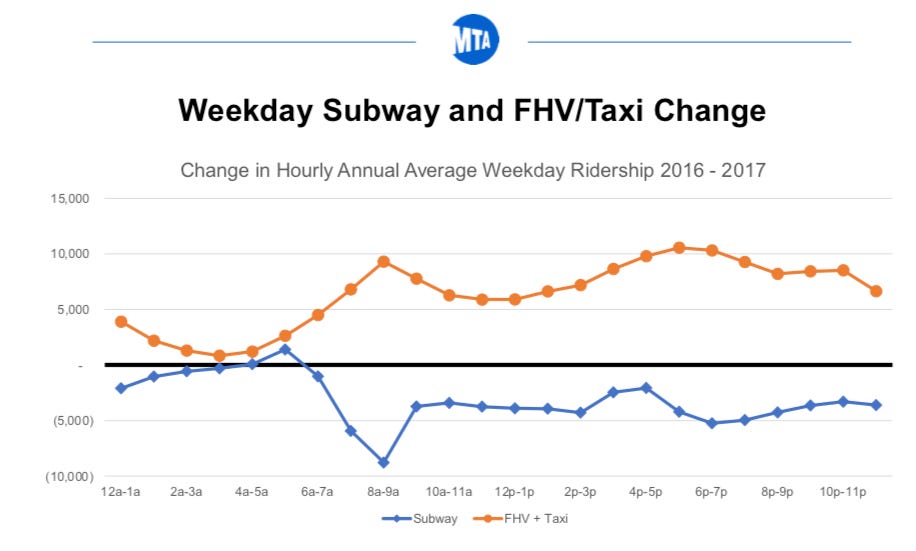 And while subway ridership has declined the most in the outer boroughs, FHV/taxi trips have increased the most in the outer boroughs: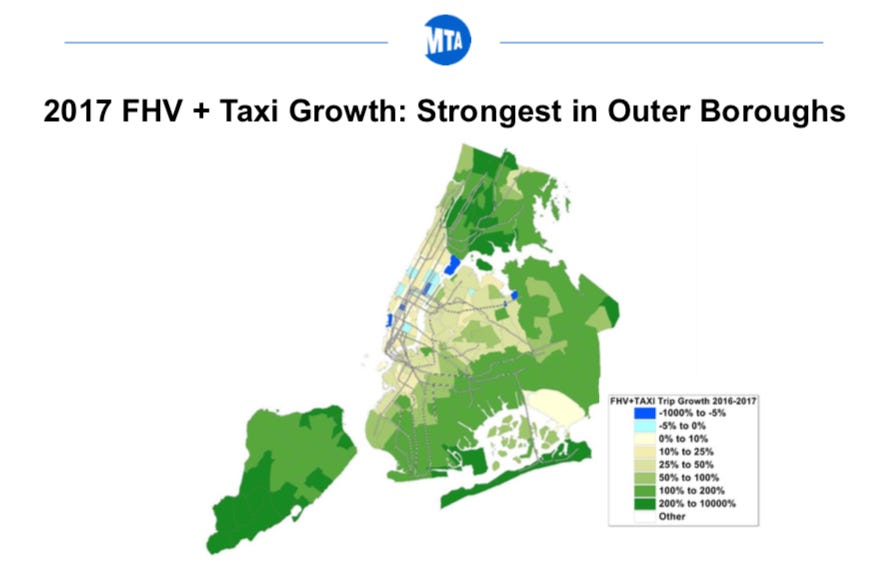 Want some more evidence people are opting for other modes of transit because of the subway's struggles?
In the last year, the amount of planned work across the system has more than doubled from 7pm – 6am. Work leads to service disruptions. During that same time window, ridership decreased 4.8%.

Weekend work has "nearly doubled in the last few years" according to NYCT. Ridership has fallen 7.3% accordingly.

In the last year, ridership within the Central Business District (below 60th St, where subway service is the most robust) increased by 1.2%. This is where individual lines overlap in key "trunk" corridors, resulting in higher-frequency service with lots of nearby options in case of service changes. In other words, ridership has increased where service is best.

On top of all that, this report likely understates the severity of the issue, as it double-counts anyone who swipes into the system, waits, and then leaves to catch an Uber.
What was the MTA's takeaway from this report? Joe Lhota said, in response to a question about riders choosing Uber, "some days I drink Coke and some days I drink Pepsi," which at the very least ignores the fact that, by his analogy, people are increasingly choosing the $30 Coke instead of the $2.75 Pepsi. He went on to pontificate that ridership trends are due to several factors, one of which is declining service, but also looped in fare evasion and the rise in FHVs.
This doesn't scan. NYCT's own report concluded fare evasion is "not a major contributor to the overall share in declining subway ridership." (This didn't stop board member Larry Schwartz from saying he believes it is the only reason for declining ridership, a head-scratchingly obtuse remark.) In fact, it found the exact logical opposite: people with unlimited Metrocards are taking fewer trips over the last two years, meaning that people opt for other modes of transit even when their subway or bus ride is already paid for. I can't think of a more damning piece of evidence that subway performance is the culprit of declining ridership. Not only are fewer people taking the subway, but some are paying extra just to avoid it.
I feel like I end all of these newsletters the same way, by mentioning Andy Byford has a plan to fix everything, which is true, and he does. The problem—which he and everyone else at NYCT fully acknowledges—is his plan, if enacted, will only cause more subway pain over the medium term, shutting down major parts of the system on nights and weekends for months if not years at a time. Rehabilitating the bus system will also take three or four years, at the very least, and that still leaves the question of how to get bus lanes cleared and expanded, issues the MTA does not control.
And his plan isn't the only plan. There is the FixNYC plan for congestion pricing languishing at the state level, which could only pay for about half of the Byford Plan. There is the City Council plan to cap Ubers—and all the little sub-plans within there—which probably won't help congestion all that much. And there's the MTA board working group's plan on how to reign in the MTA's exorbitant costs to make all this and more sustainable, which isn't really a formal "plan" yet. There is no unified effort, no holistic vision. It's a piecemeal approach to a systemic breakdown.
The state could actually appoint officials to the "metropolitan transportation sustainability advisory work group," a provision enacted in the recent state budget that nobody has bothered to follow through on. A large part of me is dubious yet another working group or task force or committee would do anything. But I do think there's value in coalescing all of these disparate plans into one comprehensive agenda that addresses every aspect of the city's transit crisis, answers the question of how to fund it all, and how to put actual spending controls in place so the public can have some degree of confidence the money is being spent well. That holistic vision, that plan, is sorely lacking from current debates. Opponents can seize the narrative and claim political expediency by expounding noxious whataboutism.
Moreover, fixing this mess requires unprecedented cooperation between the city and state, the likes of which New York has perhaps never before seen. It requires a political climate we simply do not have. And I fear anything short of a unified effort to address this death spiral is only going to plunge us deeper into the vortex.
News You Probably Can't Use, But About Which You Can Certainly Brood
In Which I Make An Educated Guess About When Things Will Get Better
This week's estimate: June 2022
Change log:
May 25, 2018: June 2022
March 30, 2018: 2030
March 16, 2018: 2024
February 2, 2018: 2021
January 20, 2018: 2020
Your Upcoming Service Advisories, Provided by Lance from
Subway Weekender
Note: the service advisories reflect the most disruptive changes. Be sure to check the maps or the MTA website for a full list of service changes.
Weekend:
1 – Limited service between 137 St-City College and 242 Street

2 – No service between E 180 Street and 135 Street

5 – multiple diversions

No service between E 180 Street and 149 St-Grand Concourse

Limited service between 149 St-Grand Concourse and Bowling Green

E – All service runs via F and R lines between 21 St-Queensbridge and Whitehall St

E R – Jamaica-bound service is express-only in Queens

F – Downtown service runs via E and A lines between Roosevelt Av and Jay St

J – No service between Crescent St and Jamaica Center

N – multiple diversions

No service between Queensboro Plaza and Ditmars Blvd

All service runs via D line between 36 St/4 Av and Coney Island

R – No overnight service between Atlantic Av and Whitehall St
Late Nights:
2 – No service between 3 Av-149 St and 96 Street

3 – No service

4 6 – Downtown service is express-only between Grand Central and Brooklyn Bridge

6 – Split service at 125 Street

D – No service between 34 St-Herald Sq and Atlantic Av

E – All service runs via F line between Roosevelt Av and 2 Avenue

F – All service is local-only in Queens

Q – All service runs via R line between Canal St and DeKalb Av
Meanwhile, in the Rest of the World
Across the river, PATH ordered $240 million in new cars from Kawasaki, the same company that is handling the subway's next large car order. The price per car—about $2.4 million—is comparable.

Angry South African commuters have retaliated by lighting their trains on fire. Don't get any ideas, people.

Seth Rogen is officially the voice of the Toronto Transit Commission, at least for certain public service messages, which are very Rogenian. (Thank God the MTA hasn't forced us to listen to, like, Robert De Niro saying "Heyyyyy I'm walkin' here!" for the last 40 years.)
David Roth's
Esteemed Subway Rider of the Week
Roth is on vacation this week so I'm subbing in his second-place finisher from last week: "a five-month old puppy that, on the escalator up at 86th Street on the Q, was doing that dog thing where it thinks it's swimming."
Dog in a Bag
Have a dog in a bag photo? Reading this on the subway and see a dog in a bag? Take a picture and send it to aaron.wittes.gordon@gmail.com.

Photo credit: Beth Parker
---
This has been another edition of Signal Problems, a weekly newsletter helping you figure out what is going on with the subway, made every week by Aaron Gordon, freelance transportation reporter.
If you're a new or prospective subscriber, head over to the Subway Knowledge Base page for an introduction to the state of the subway and peruse the archive here. And if you're enjoying this newsletter, please share it with others. It's the best way you can say thanks.
As always, send any feedback, subway questions, or Dog in a Bag photos to aaron.wittes.gordon@gmail.com. I'd love to hear from you. As someone on a stalled Q train once told me, we're all in this together.