Miracle On 14th Street
In the history of Signal Problems, I have never dedicated an entire edition to good news. I mean, let's be honest, the MTA hasn't given us an awful lot of good news. And in keeping with my cynical personality, whenever there is good news, there is also plenty of other bad news.
But today is different. Welcome, Signal Problems readers, to the Miracle On 14th Street.
---
Two weeks ago, I walked along 14th Street from Eighth Avenue to Union Square. I walked along the sidewalk, as people tend to do, but I could, in an alternate world with different social norms, clambered atop the line of stationary vehicles idling along the road without my feet touching pavement, so complete was the gridlock, as if each vehicle had separation anxiety from the one in front of it. I not only moved faster on foot than the buses stuck in that traffic, but reached my destination quicker than many of the cars, too.
Speaking of alternate universes, I made that same exact walk a week later, Friday at 6 p.m. Instead of the cacophony of honking and steady drone of idling engines, there was this: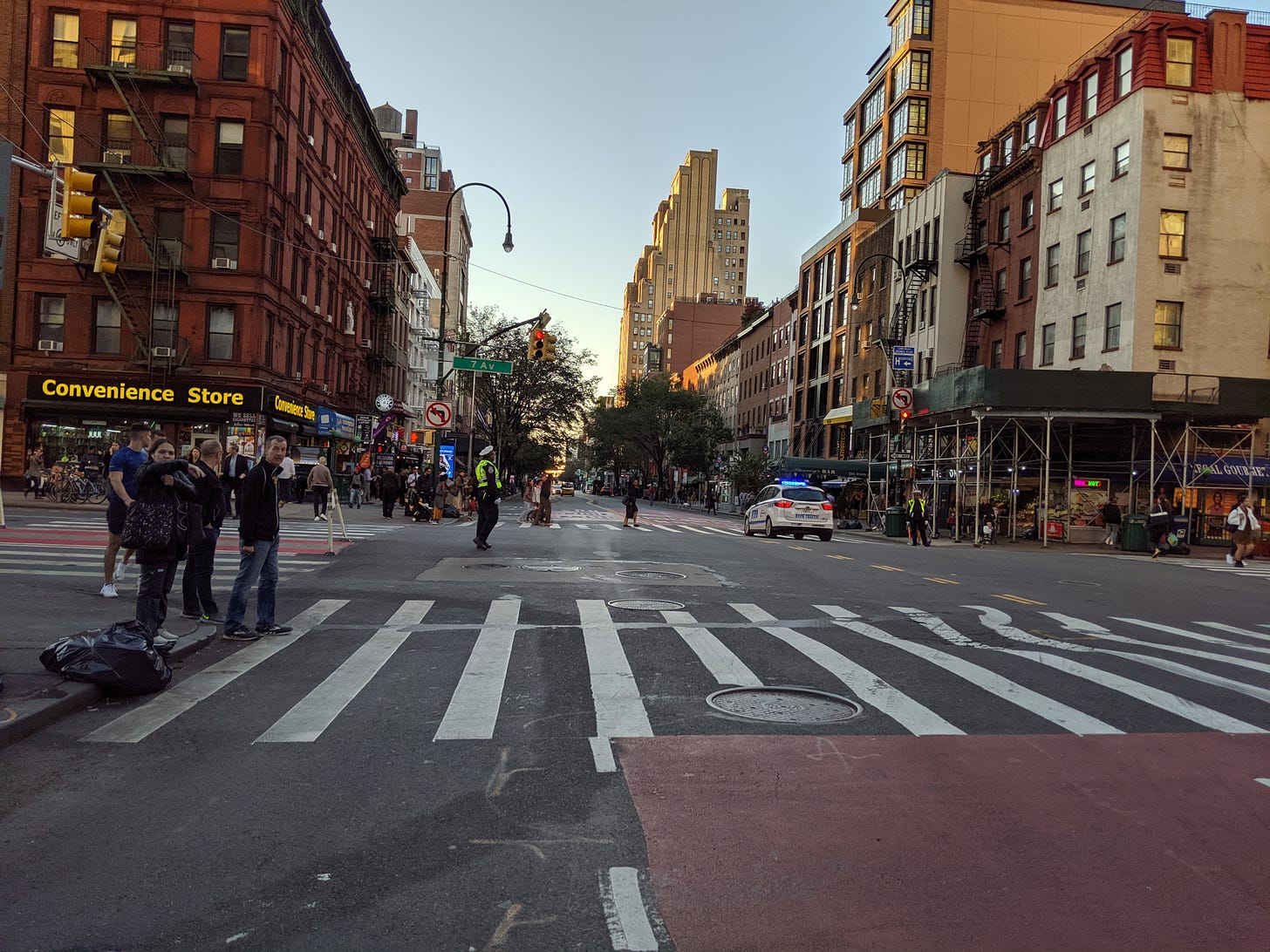 And this: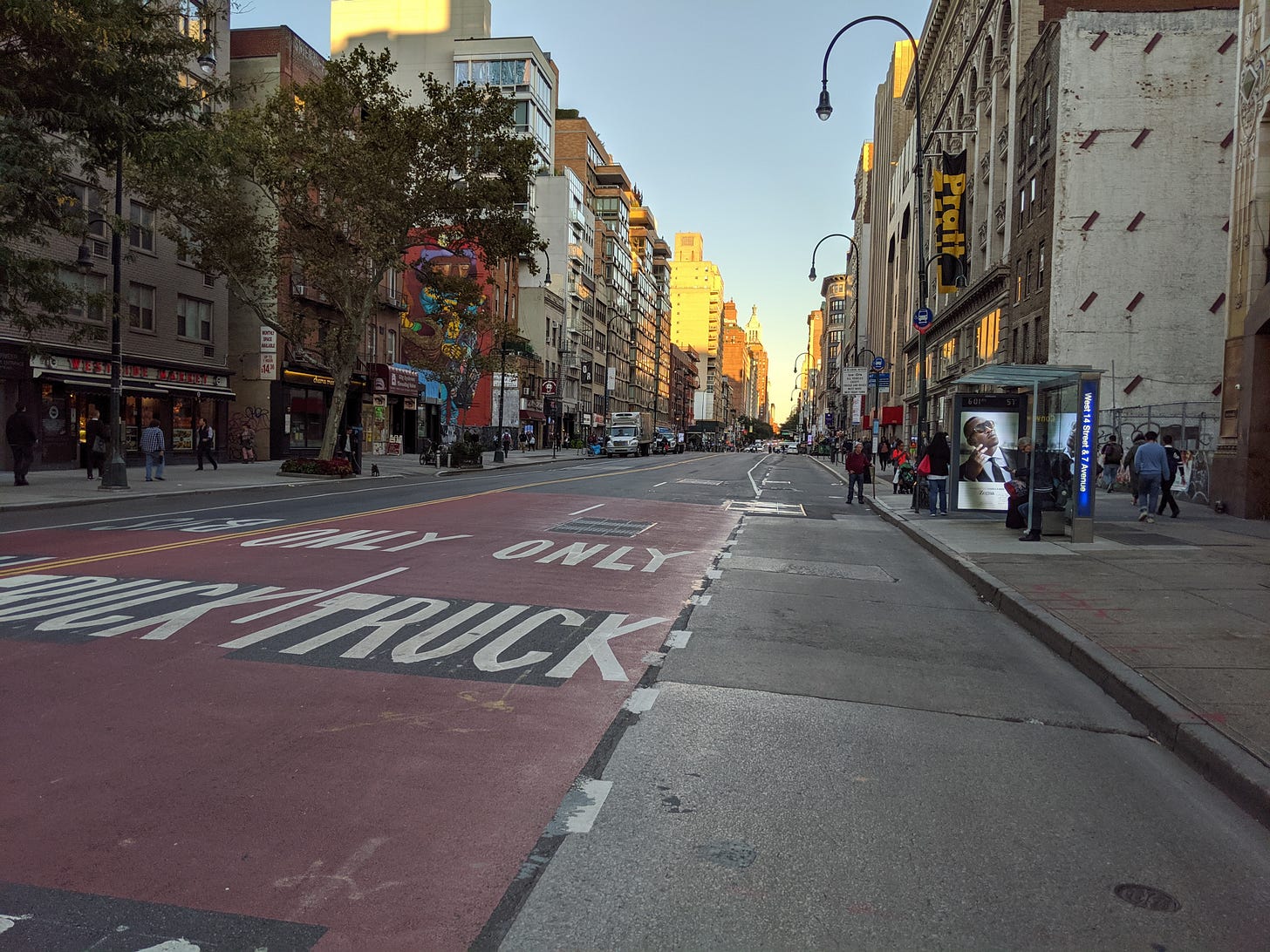 While no bus had passed me the week before, no fewer than five buses past me that evening during the same walk. And they didn't merely pass. They zoomed by at or near the 25 mph speed limit, for there were no obstructions in their paths. And the buses that did pass me were not empty. They were full.
This turn of events is because, on Thursday, the city was finally able to implement the 14th Street Busway, a plan originally hatched to cope with the erstwhile L shutdown, but kept in place for reasons that had always been clear to those of us who prioritize the movement of people above private cars in dense cities.
Today, the reasons for keeping it in place are more obvious than ever. As has been well-covered elsewhere, the M14 has been one of the slowest routes in the city for some time, bleeding ridership as a result. To reverse this trend, the city proposed making 14th Street local access only, except for buses, trucks, and emergency vehicles. All other cars must take their first right turn off the road.
There were worries about how well this would work. There was also a legal challenge of such erroneous merit I refuse to spend any longer discussing it. Thanks to a (disturbingly narrow 3-2) ruling from an appellate court that reversed a previous injunction against the busway, we no longer have to pontificate about what would happen if cars were mostly banned from 14th Street and the surrounding area. Instead, you can see for yourself.
Instead of only catching single words of passing conversations, I could hear entire sentences. The hullabaloo of whatever was going on at the Union Square steps echoed for half a block in every direction instead of dimming by the corner of University Place (which, by the way, is pedestrianized now as well). I found myself leaning against a LinkNYC kiosk street-watching. Delivery workers zoomed past unconcerned about getting doored and without interfering with any pedestrians. Two kids rolled by on their skateboards just off the sidewalk instead of weaving in and out of pedestrians. The only disturbance from this peaceful scene was an ambulance screaming by at great speed, something it could not have done a week ago. I thought about how often a hypothetical disruption of emergency services are erroneously used as a counterpoint to safe streets infrastructure like bike lanes and busways. I couldn't help but wonder, as the ambulance did not merely crawl through an intersection but sped by, did this busway already save a life?
(As for traffic on 12th, 13th, and 15th streets, I saw the usual half-block backups at red lights during rush hour. It was certainly nothing remotely close to the apocalyptic scenario detractors anticipated. As far as I could tell, the most significant downsides so far have been Uber customers needing to walk half a block to meet their ride. Also the owner of Joe's Pizza apparently thinks a lot of people take taxis to get his $3 slices, which, LOL.)
Reporters who flocked to the M14 during the first few days of the busway found jubilant bus riders shaving up to ten minutes off their normal commutes. As the WSJ noted, bus drivers had to slow down to keep on schedule. I echo AM New York reporter Vin Barone's observation that it is exceedingly difficult to find someone calling New York City buses "amazing," yet here we are:
The totality of this shift from a miserable, traffic-clogged thoroughfare to a pleasant urban street with speedy, efficient bus service feels like a miracle. It is a miracle, when you consider how hard it is for anyone to accomplish anything positive in this city's transportation scene.
The forces for conservatism in this city are strong, especially when it comes to maintaining the status quo of streets as spaces for private cars. So we must not forget that this miracle was not, in fact, magic. It did not happen by itself. Like most "miracles," it is the result of years of hard work by hundreds of people who imagined something better and fought to make it reality. Groups like Transportation Alternatives, TransitCenter, Riders Alliance and others have been fighting for years to have this busway implemented. In the past year and a half especially, many at the MTA have fought hard for it, too. And I know there are folks at DOT right alongside them.
The MTA recently proposed a $54 billion plan to make getting around this city and the entire New York region faster, more reliable, and more sustainable. One of these days, I'll get around to sharing my thoughts on that plan. But it is worth noting this busway, which is going to provide trip time and reliability improvements on par with any of the billion-dollar efforts that plan includes, did not cost very much money.
For all the hand-wringing and court hearings, in the end it was always a simple problem with a simple solution. For a city that pathologically over-engineers and over-spends on seemingly every solution to every problem including but hardly limited to transportation, they just. Fucking. Did it. That is the real miracle.
If we want more of these miracles to happen, I urge you to go to 14th Street, ride the M14, and see for yourself what bus service could be right here in New York. If you like what you see, write to your city councilmember and the Mayor's office. Let them know you want more of it, that you want to live in a city where fast buses don't have to feel like a miracle.
Dog in a Bag
MTA Rules of Conduct Section 1050.9 Subsection (h) Paragraph 2: no person may bring any animal on or into any conveyance or facility unless enclosed in a container and carried in a manner which would not annoy other passengers.
Have a dog in a bag photo? Reading this on the subway and see a dog in a bag? Take a picture and send it to signalproblems@substack.com.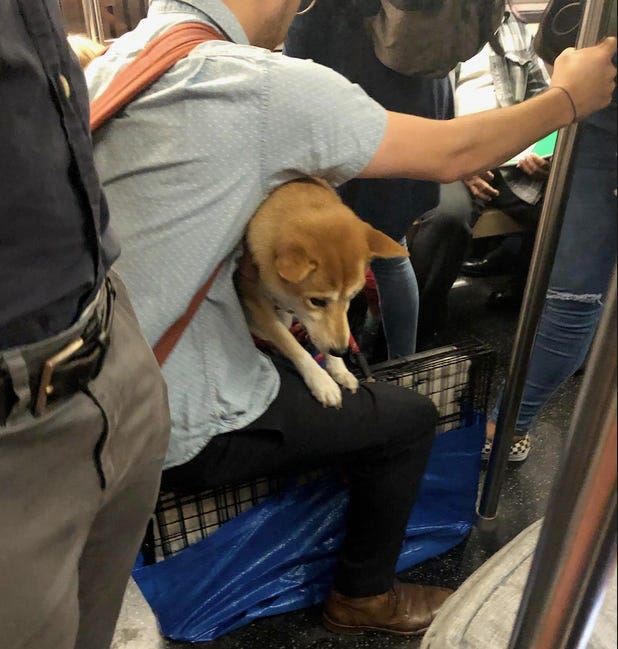 Photo credit: Erica Lourd