March 23, 2018: Gridlock
Welcome to Signal Problems, a weekly newsletter helping you figure out what is going on with the subway. I'm Aaron Gordon, a freelancer writing about many subjects, one of which is transit for the Village Voice. If you're a new or prospective subscriber, head over to the Subway Knowledge Base page for an introduction to the state of the subway.
As always, send any feedback, subway questions, or Dog in a Bag photos to aaron.wittes.gordon@gmail.com. I'd love to hear from you. As someone on a stalled Q train once told me, we're all in this together.  
This Week In #CuomosMTA
NYCT released a bus performance dashboard which, like the subway dashboard, makes performance easier to analyze. With this and NYCT President Andy Byford's forthcoming Bus Action Plan, this is as good a time as any to talk about an issue I have been meaning to cover for a while: the bus crisis.
Yes, I am aware this is a subway newsletter, but the buses and subways are run by the same agency (I updated the Knowledge Base page with a very quick primer on the MTA's confusing structure and governance, if you're curious). But more fundamentally, any good urban transit system is complementary. The different modes must work together to form a coherent whole. If one mode isn't working, it strains others.
While the subway is a robust, extensive network, it doesn't serve all New Yorkers. For example, there are several subway deserts around the city whose residents rely on buses for public transportation. And buses are a key lifeline for the mobility-impaired who cannot access most subway stations.
Yet, this city's buses are in an even greater crisis than the subway. Increased traffic thanks to Uber and Lyft has contributed to the problem, but New York has done almost nothing to react to the changing conditions. Despite the fundamental changes to the city and to technology in general, NYC bus service today looks almost identical to NYC bus service 20 years ago.
As with the subways, the agencies in charge have relied on blaming external factors, such as traffic, for worsening service rather than doing what it can to counteract them. The world is dynamic, and NYC bus service is static, both philosophically and as a descriptor of actual bus movement. As a result, the people who depend on efficient, affordable public transportation for their livelihoods are suffering.
This is an issue of inequality. There are more than two million bus trips in this city on an average weekday, and those riders are more likely to be poor or working class than subway riders. Rents are more affordable in subway deserts and people priced out of subway-accessible neighborhoods are left with bad transit alternatives. According to the MTA's new bus performance dashboard, Manhattan buses travel an average of about six MPH (!!!) while Brooklyn buses hover around 7 MPH.
A recent City comptroller report detailed the extent of the crisis: a reduction of 100 million annual passenger trips in the last eight years, including 16 percent fewer riders in Manhattan (where congestion is the worst) and four percent in Brooklyn (where many routes run through downtown, a series of increasingly clogged arteries) since 2011.
NYC is not alone in experiencing falling bus ridership. But many of the larger issues discussed here apply to other American cities as well.
The theory holds re a troubled segment of US transit - big bus systems

2.2% SFMTA***
-10.2% SEPTA
-6.6%NYC Transit
-6.5%LA Metro
-5.6%WMATA
-3.9%MBTA
-3.8%CTA
-2.3%NJ Transit
(2017 vs 2016 bus ridership, FTA)

Only @sfmta_muni has a real program seeking to improve service https://t.co/595xnxxB0U
March 21, 2018
Here we have to get into the complicated dynamics of the NYC bus landscape. The buses are owned and operated by the MTA, but the streets are controlled by the city, specifically the Department of Transportation (DOT). The MTA is a big, unwieldy bureaucracy and DOT is a big, unwieldy bureaucracy so together they're particularly big and unwieldy. To implement measures that could speed up bus service, such as separated and dedicated lanes, transit signal priority (turning lights green or keeping them green longer for buses), all-door boarding, eliminating nearby stops, or a faster implementation of the city's Select Bus Service routes (more on them later) requires extensive cooperation between the two entities.
Partly as a result of this bureaucratic logjam, the bus routes have remained largely unchanged despite NYC's profound demographic and economic shifts. As the city comptroller's report notes:
From 2006 to 2016, the number of jobs located in Brooklyn jumped by 49 percent, in the Bronx by 35 percent, in Queens by 34 percent, and in Staten Island by 27 percent, but only 5 percent in Manhattan. As a result of this growth, the share of New York City jobs located outside of Manhattan rose from 35 percent to 42 percent over this period.
Yet the bus system did basically nothing to adjust, even as areas like Williamsburg, Red Hook, and Greenpoint—places where transit availability has not kept pace with population growth—could have benefited tremendously. For these kinds of changes, it is buses, not subways, that must pick up the slack for fairly obvious reasons. Bus routes are easy to adjust. Subways are not. Yet, MTA/DOT have treated bus routes as if they are permanent fixtures.
Select Bus Service routes, or SBS for short, are the lone quasi-bright spot in the city's bus service the last decade. These routes combine dedicated lanes, transit signal priority, pre-board payment (so there's no giant line at the front of the bus to board before it can get moving), and fewer stops to speed up service. There are currently 15 SBS routes with another 21 planned to roll out in the next decade, a languid pace that exemplifies the bureaucratic gridlock facing every single bus change. It takes years of community meetings to get these routes in place.
The main problem with SBS is the same as with every other bus route in the city: dedicated bus lanes, if they exist at all, are only in effect during peak hours on weekdays and even then they are hardly enforced. The Times profiled a computer engineer in Harlem who used traffic camera footage and machine learning to analyze the amount of time bus lanes at just one intersection were blocked.
Mr. Bell found that the bus stop was blocked 57 percent of the time, while the bike lanes were blocked 40 percent of the time.
The noteworthy aspect of that observation is nobody's arguing with it. Transit advocates have known for years that bus lanes are constantly clogged and the police have no interest in enforcement (perhaps because they are often the culprits themselves).

The @NYPD13Pct refuses to enforce 2nd Av bus lane b/c it would mean dealing with their own @placardabuse - the result is that virtually every block from 34th to 14th has a bus lane blocked by drivers with nothing to fear. The bus lane is thus unusable and pointless. pic.twitter.com/mfHmyX2lJi
March 19, 2018
One of the reasons nobody has a sense of urgency about these improvements is because
many
politicians
resist them due to nonsensical protectionism.

Little off-topic but was wondering if you saw this: Marty Golden opposing SBS treatment for the B82 because of parking? 28K people ride that daily! And that's with it barely moving (F report card). A lot more people take the bus then park on Kings Highway https://t.co/e2746SBKTF pic.twitter.com/SoWmiePJtZ
March 19, 2018
The challenge with the Department of #Transportation's proposal to implement a "buses only" lane… https://t.co/kCpfNuW8b0
November 16, 2017
DOT and the MTA take those complaints more seriously than they should, the whole process slows down, and sometimes the improvements get tabled altgoether.
There's something deeper at work here, which I noticed in Sarah Maslin Nir's excellent piece on the bus crisis that had one unfortunate quote from city councilman Mark Levine:
Bus transit is less glamorous and sexy than the subways, but it's a vital piece of our infrastructure.
The idea that buses aren't "sexy" is so internalized in American culture that even advocates for expanded bus service like Levine recite it. The conventional wisdom that buses aren't "sexy" is a self-defeating cycle, in which perception begets reality which reinforces the perception. Nobody appears willing to break the vicious circle. The fixes aren't complicated or expensive, particularly by NYC transit standards, but they require determination, political will, and a holistic vision, all traits NYC's bus landscape is horribly lacking.
I'm excited to see Byford's Bus Action Plan, because unlike the subway, the buses could actually get fixed fairly quickly and inexpensively. DOT has the power to create dedicated space for buses on the roads. They should be true Bus Rapid Transit routes, have their own dedicated right of ways, separated by physical barriers as often as possible, automatic camera enforcement of bus lanes, quick boarding procedures, and no more stops within 750 feet of one another. These policies only sound outlandish and drastic in America. Everywhere else, they're just how good buses work.
News You Probably Can't Use, But About Which You Can Certainly Brood
Line Ratings 
Using the fantastic Subwaystats.com website, I've compiled weekly ratings for each line. Each number represents the percent of time the last week (Monday-to-Sunday) that the line had "Good Service." For example, if the number is 70 percent, that means the line had "Good Service" 70 percent of the time and any form of disruption—planned work, delays, service changes, etc.—the other 30 percent.

This is just one of many ways to measure a line's performance. It's not perfect. For one, it relies on the MTA's definition of "Good Service," which there are very good reasons to doubt. On top of that, most people would prefer a line be down all weekend for planned maintenance but not for the two hours during rush hour. I wish the MTA compiled Lost Customer Hours like Transport for London does, but then again I wish the MTA did a lot of things.
If you're having trouble viewing the graph below in the email, check it out in your browser by clicking the "view in browser" button at the top-right of this email or going to signalproblems.substack.com.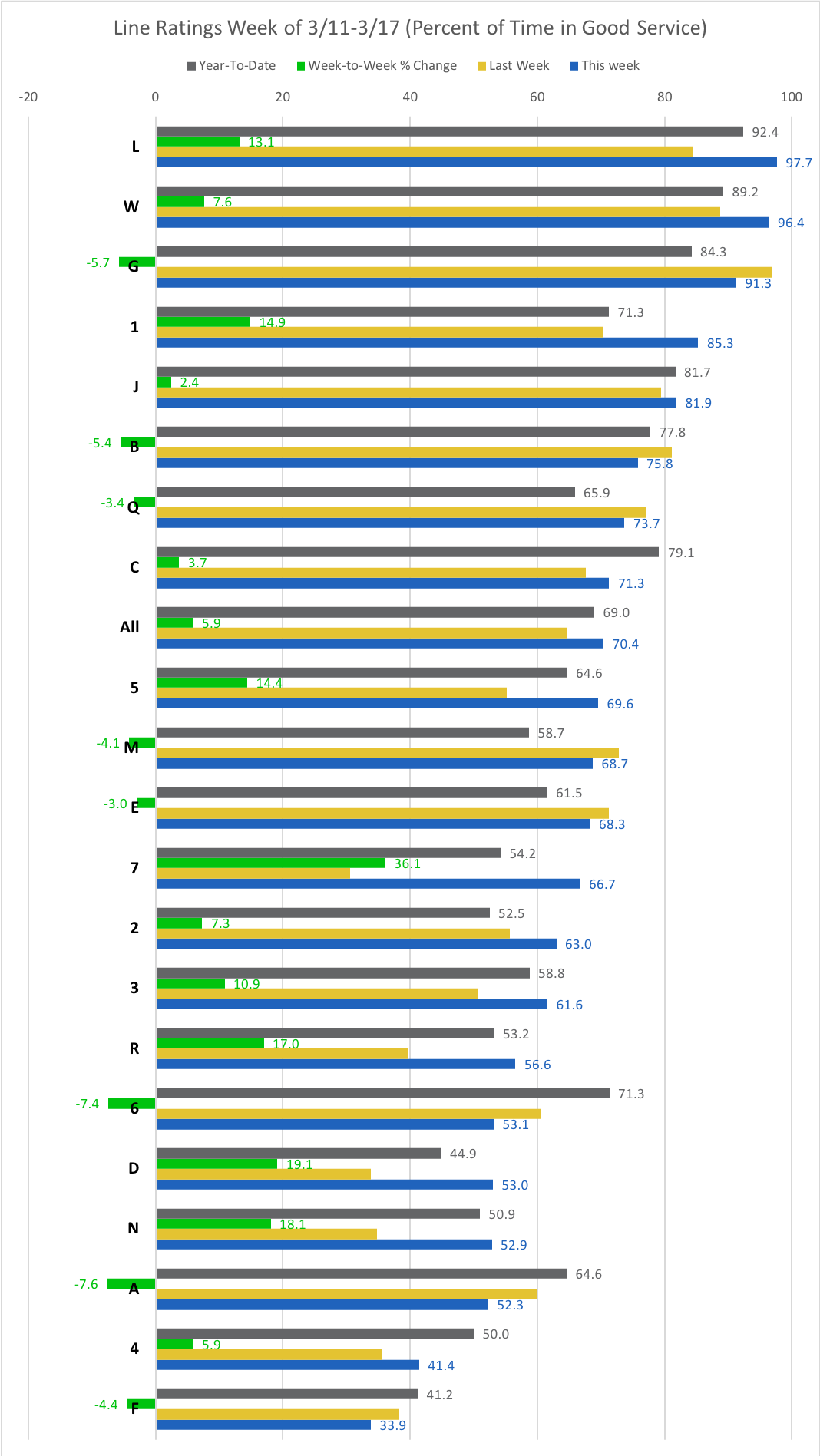 In Which I Make An Educated Guess About When Things Will Get Better
This week's estimate: 2024
Your Upcoming Service Advisories, Provided by Lance from
Subway Weekender
Weekend
2 - No service between E 180 Street and 96 Street

3 - No service

A - No service between 181 Street and 207 Street

A C - Downtown service is express-only between 168 Street and 59 St-Columbus Circle

D N - All service is local-only in Brooklyn

E F - All service is local-only in Queens

F - No service between Church Av and Coney Island

J - No service between Broadway Junction and Jamaica Center

M - No mainline service between Broadway Junction and Essex St

N - No service between Times Sq-42 St and Ditmars Blvd

Q - All service is local-only between 57 St-7 Av and Canal St
Full map here
Late Nights
1 2 - Downtown service is express-only in Manhattan

3 - No service

4 6 - Downtown service is express-only between 125 Street and Grand Central

A - Downtown service is express-only between 125 Street and Canal St

F - Service runs via E-line between Roosevelt Av and 5 Av (Manhattan-bound Tues., Wed mornings; Queens-bound Thurs., Fri. mornings)

G - No service between Bedford-Nostrand Avs and Court Sq

N - No service between Queensboro Plaza and Times Sq-42 St

R - multiple diversions

No service between Atlantic Av and Whitehall St

All service is express-only between Atlantic Av and 36 St/4 Av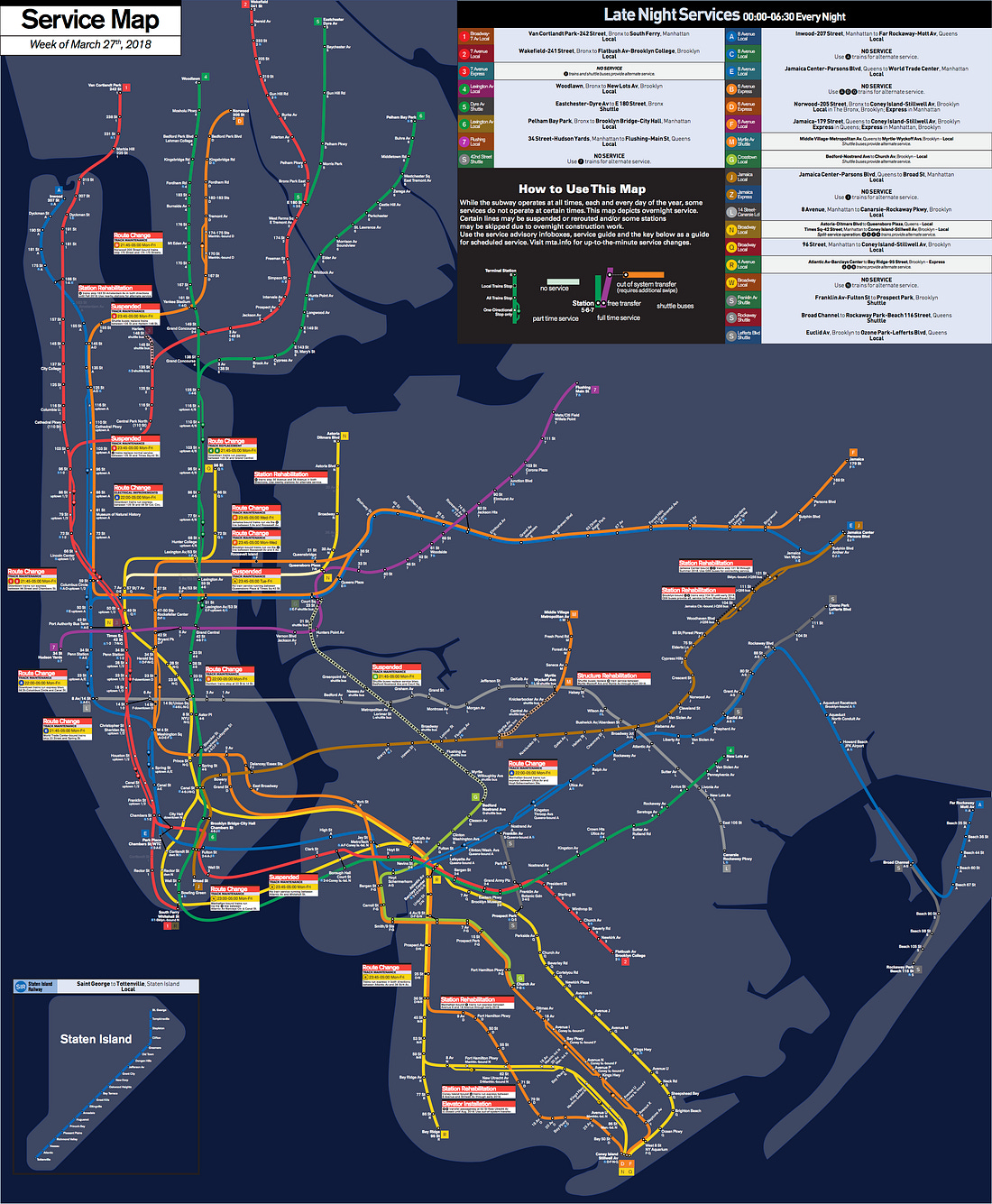 Full map here
Meanwhile, in the Rest of the World
Check out this new kickass-looking Japanese bullet train

Speaking of bullet trains, I am absolutely fascinated/flabbergasted by the epic shit show that is the California High-Speed Rail project. As of right now, it looks like it will be a roughly $100 billion project—I'm taking the high estimate because so far the project has surpassed every previous high estimate—to connect LA and SF by a rail journey that will be at best 3 hours and 30 minutes. I'm a supporter of high speed rail expansion but this is ludicrous. A flight takes about 1 hour 20 minutes so even with airport shenanigans it's still more or less a wash.

The DC Metro is finally getting a dedicated source of revenue, with Virginia, Maryland, and the District pledging to kick in around $500m a year total.
MTA Mention of the Week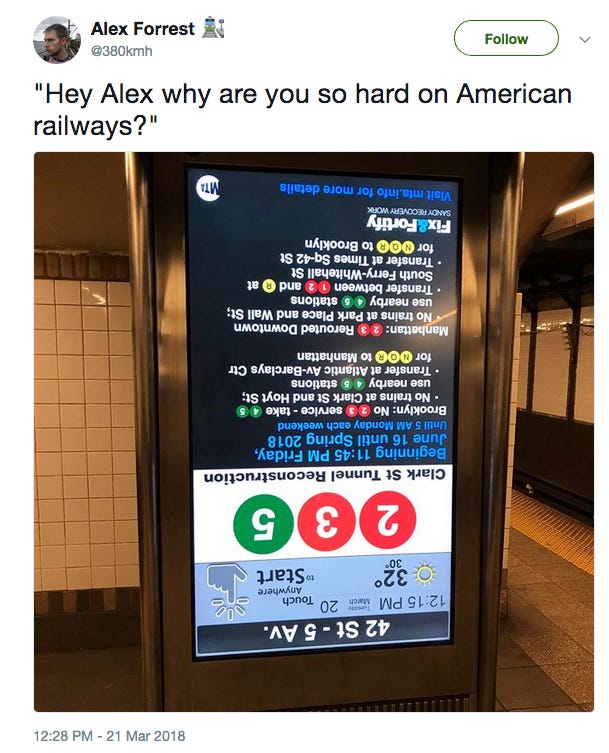 Dog in a Bag
Have a dog in a bag photo? Reading this on the subway and see a dog in a bag? Take a picture and send it to aaron.wittes.gordon@gmail.com.
---
Hey, since you made it all the way to the end, you may be enjoying this newsletter. If so, please help spread the word, perhaps by using the nifty sharing buttons below or telling a few friends using out-loud words. A lot of work goes into making this newsletter every week. Sharing it with others who might enjoy it too is the best way you can say thanks.