Happy 115th Birthday To The One And Only
New York City makes me feel very rich and very broke. I will be strolling through Prospect Park on a crisp fall evening as the sun slowly descends across the longmeadow forcing thin rays of light through the changing leaves wondering how this can possibly be mine. I'll be coasting down the Manhattan Bridge on my bike as the city rapidly comes out to meet me wondering how life can be any better. I'll hop on the 2 at Chambers Street and be at 96th St less than 20 minutes later like a superhero. No amount of money in the world can buy those feelings, but I have them.
But then I leave the park or get off my bike or walk up the steps at 96th Street and remember how much of this city is either off limits to me or prohibitively costly to experience. Barring some miracle, living in Manhattan (and an increasingly large swath of Brooklyn) won't happen. Regardless of which borough I live in, I'll be renting even though I'm a Grown Ass Man. Eating in a restaurant is a once-a-month indulgence. I was charged $7 for a coffee last week after I ordered their house drip and it was not a mistake. That's just what coffee costs now, I think to myself, wrongly. But, increasingly, that is what New York feels like.
For these reasons and more, people are leaving. I don't blame them. But when this city makes me feel rich—spiritually rich, of course—I feel like there's nowhere else I could possibly live.
This week, I spent a day working from the Rose Main Reading Room in the New York Public Library main branch while researching this story about the subway's opening day of service 115 years ago this Sunday. The Rose Reading Room is one of those miraculous New York City rich places. How can it possibly be true that I can just walk in here and be here? How is this mine?
I don't presume everyone feels that way about the Rose Reading Room, or Prospect Park, or the subway. But reading through the stories of the subway's first day, I know I'm not the only one.
Anyways, here's a little bit about what I found reading through those accounts:
What is immediately clear reviewing newspaper accounts from that momentous first day is that, right from the start, the subway came into the city not like the typical immigrant or visitor awed by its surroundings or shy in welcome, but with a personality and character of its own, one that transformed not just the people who rode it but the city as a whole. It was not a mere piece of infrastructure, but the closest thing to an organism, a being, one can imagine tunnels and steel and concrete being.

For all the subway's flaws then and since, it has always been special, because it has always been itself.
Please do check out the whole thing here. I wrote it for myself, but I also wrote it for you all, my dearest Signal Problems readers.
Happy birthday, subway. We wouldn't be the same without you.
Dog in a Bag
MTA Rules of Conduct Section 1050.9 Subsection (h) Paragraph 2: no person may bring any animal on or into any conveyance or facility unless enclosed in a container and carried in a manner which would not annoy other passengers.
Have a dog in a bag photo? Reading this on the subway and see a dog in a bag? Take a picture and send it to aaron.wittes.gordon@gmail.com.
I forgot to attach a dogged bag in my last email so here are two: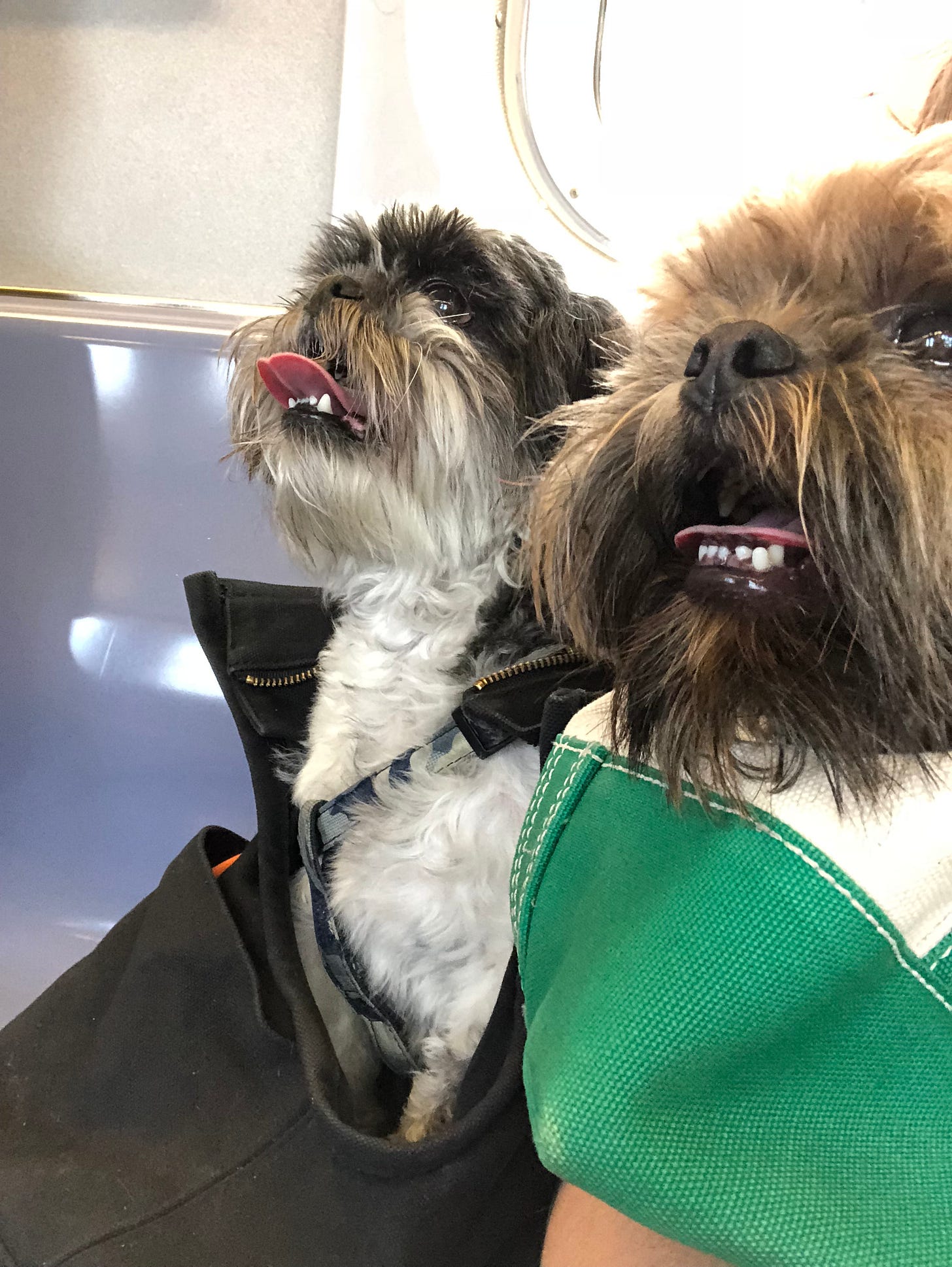 Photo credit: Bailey Bretz
And a fitting nostalgia train Dog in a Bag photo for the occasion: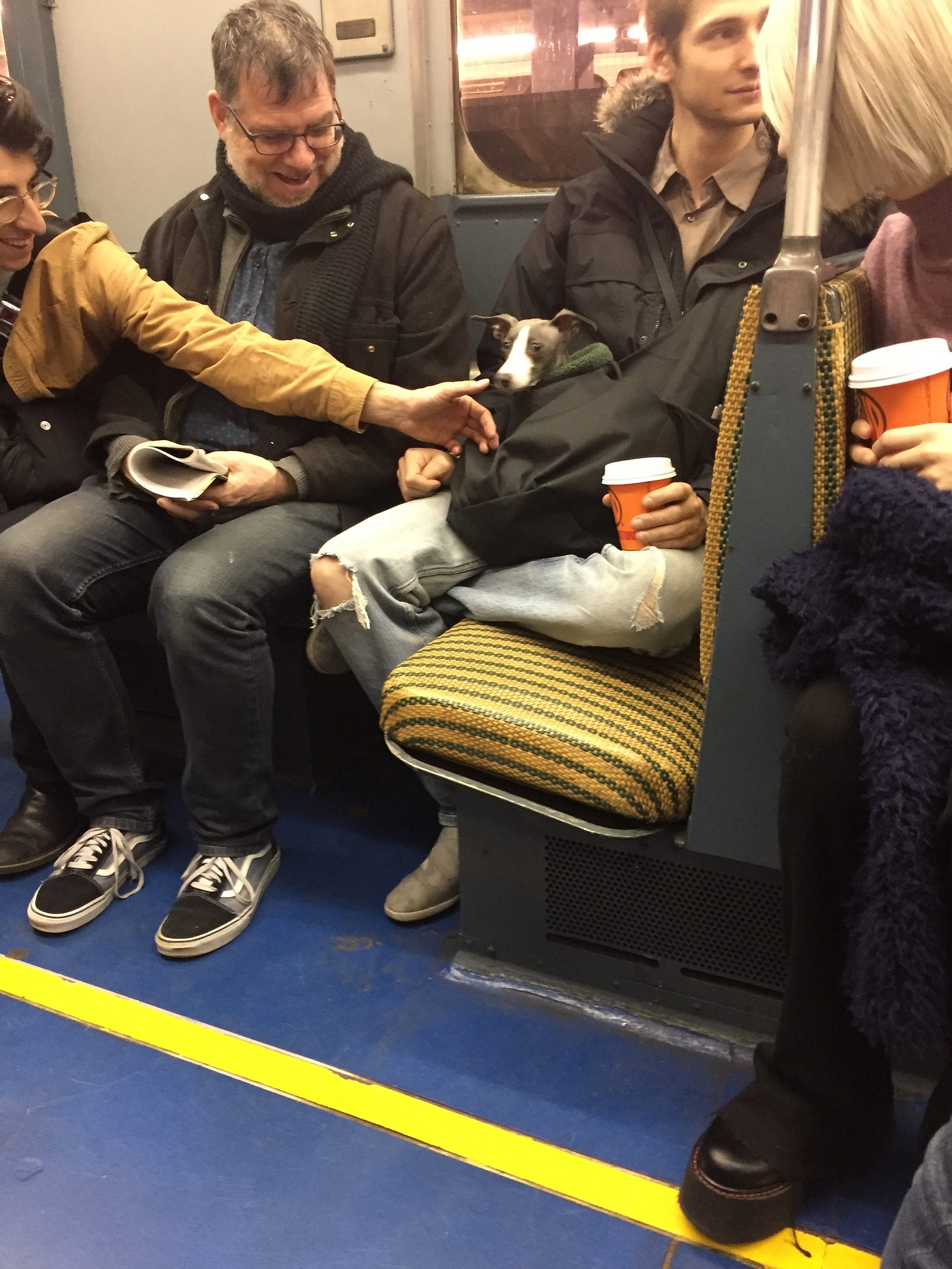 Photo credit: Nora