Getting kicked out of the MTA's robot demo
And initial thoughts on Corey Johnson's transportation platform
Quick note: I will no longer be including upcoming weekend/late night service advisories due to the schedule change to Monday emails. Lance, the very nice person who sent them to me every Thursday evening with a reliability the subway can only dream of, will still be posting at his helpful website the Subway Weekender.
---
From time to time, Signal Problems receives tips. I recently got one that piqued my interest: the MTA IT department would be hosting an "executive demonstration" to show the installation of ultra-wideband sensors on the 42nd St shuttle track "via a robotic arm," the service change order stated.
As a refresher, ultra-wideband, or UWB, is a form of wireless communication that may be applicable to communications-based train control, or CBTC, an upgraded signaling system currently used on the L and 7. Governor Cuomo appears to be of the mistaken belief that UWB is different from CBTC. It is not, nor is it in use in any train system of any kind anywhere in the world. But UWB, if proven viable, could make installing CBTC quicker and cheaper.
You'd think the UWB project would be under the auspices of New York City Transit, because it's, you know, a signaling project for the subway. But it's not. It's under MTA IT, which is outside NYCT's purview.
This didn't make sense to me until the MTA board started asking questions about Executive Order 168, the one Governor Cuomo signed back in the summer of 2017 to declare the MTA in a "state of emergency" and that he has renewed every month to circumvent normal procurement processes.
One such project forwarded under EO168 is….UWB. Back when the board raised eyebrows about this in July, I wrote:
The kicker to this little side narrative: [former MTA chairman Joe] Lhota said even if [UWB] was proven, which it won't be until December at the soonest, the full project would go through the normal procurement process. As one board member inquired, how does the MTA figure the proof-of-concept is an emergency measure but the project to actually fix the subways is not?
It is partially for this reason—and also the general secrecy behind it from the MTA—that I've always found UWB to be a curious project. I was excited to get a glimpse of it. And robots!
The demo was taking place on the Grand Central shuttle platform in the middle of a weekday, so I asked Dave Colon to go and check it out. Here's what he saw:
Photo credit: Dave Colon
Photo credit: Dave Colon
Photo credit: Dave Colon
Unfortunately, we didn't get too many details at the event because Colon was confronted within a few minutes by MTA staff. He was told that the event was closed to the press because it was a demonstration of a technology the MTA was considering. They then instructed him to leave.
A spokesman for the MTA later told us this shouldn't have happened and apologized for the mistake. The MTA also provided the following statement about the demonstration:
"If the next capital plan is fully funded, the MTA will be able to embark on a massive re-signaling process that will have a dramatic impact on speeding up trains and increasing reliability across our system. As part of that effort we are exploring a number of ways of installing new, cutting edge technology in quicker and cheaper ways in order to bring the system up to modern standards in the most efficient fashion. On a grand scale it will be safer, quicker, cheaper and less disruptive to service. As part of these efforts, we held a demonstration of a robot installation, last Monday."
As you can see in that last photo, the event was put on by a company called Reliabotics, which is based out of Woodbridge, NJ. The only mention of this company in the entire MTA website, which houses contract information, board materials, past presentations, and all other public documents, is from the October 2017 finance committee report, under the section for EO168 procurement. Under the emergency order, the MTA paid the company $150,000 for "Work train for installation of wayside sensors."
Here are a few other "emergency" items procured under the executive order that month:
$2.08 million to PricewaterhouseCoopers for the "Administration of the MTA Genius Transit Challenge," a widely-panned Cuomo initiative that fits squarely into the "oh, yeah, I remember that" category of MTA waste

$7 million in "Bus Services from Park & Ride locations during Amtrak/Penn Station summer improvements," an expense board member Veronica Vanterpool flagged at the time as having nothing to do with the emergency order's purpose

$525,000 in consultant fees "to prepare conformed contract drawings and specifications for the Cortlandt Street #1 Line Station which has been closed since 2001." Ah yes, the "emergency" of re-opening a station that has been closed for 16 years.
To put these costs in perspective, remember when NYCT was planning to massively boost subway service on all those other lines during the L shutdown? It estimated all that extra service would cost the agency $27.2 million annually.
I can't say whether this UWB-installing robot, or UWB in general, is a good idea (because, you know, we were kicked out of the event). It's certainly plausible. But what I do know is none of this is an emergency.
What the MTA absolutely doesn't need is to have Cuomo foisting yet another "innovation" on a broken bureaucracy without any transparency. If it's a worthy project, it ought to stand up to scrutiny, from the board and the public, on its merits.
---
Thanks to all the paid subscribers who make this free edition possible. Consider becoming a paid subscriber today to support the newsletter and receive occasional subscriber-only content.
---
News You Probably Can't Use, But About Which You Can Certainly Brood
More or less since the day I started this beat, I've been pounding the drum that the fundamental problem from which all other issues metastasize is that neither the Mayor nor Governor have a comprehensive vision for what getting around New York City ought to look like. So it was with great interest that City Council Speaker Corey Johnson released a 104-page plan for municipal control of the subways and buses and "a comprehensive transportation vision for the five boroughs." I don't often encourage people to read 104-page government reports but if you subscribe to this newsletter then it's almost certainly up your alley.

I will be writing much, much more about this plan in the coming weeks. But in short: the plan deserves to be taken seriously. As I wrote in the subscriber-only mailbag edition a couple of months ago, the idea of the city getting back control of the subways and buses has always been intriguing but no one had put forth a serious proposal. Here is that serious proposal.

Some ideas are fantastic, others are debatable, but that's only to be expected for a governance restructuring of this magnitude. I'm particularly a fan of the idea of a city-wide Mobility Czar that would control all things transportation. I don't think the city can have a truly world-class transportation landscape with the disparate governance structure it currently has. I mean, how can we expect transportation policy to work when two separate agencies share control over bus stops?

That being said, I find it frustrating to hear people dismiss the plan as impractical, or using some euphemism for impracticality, without engaging it on its merits. You know what's impractical? Having (most of; I see you, NJ Transit and PATH) the region's transportation governed by an authority that plunges us into crisis after crisis, generation after generation, making no actual progress in between.

If you're looking for a "I don't have time to read it just give me the gist of it son" recommendation, I'll point to Alon Levy's breakdown and Second Ave Sagas' take (particularly this bit: "The mayor's statement and those from the leading advocacy groups seem to indicate that too many are putting all their MTA eggs in the congestion pricing basket. They seem to view congestion pricing as an "immediate fix" to the MTA's woes, and this is misguided at best and dangerous at worse [sic]").

An observation: this report has 782 footnotes. The Cuomo/BdB Ten Point MTA reform plan has 932 words, total.

A federal judge finally told the MTA this week they cannot keep completely disregarding the Americans with Disabilities Act. I wrote all about the decision and put it into its larger New-York-is-pretty-damn-terrible-for-people-with-disabilities context over at the noted New York City transportation blog Jalopnik. The money quote from U.S. Attorney Geoffrey S. Berman:
"The MTA is now on notice that whenever it renovates a subway station throughout its system so as to affect the station's usability, the MTA is obligated to install an elevator, regardless of the cost, unless it is technically infeasible. Individuals with disabilities have the same rights to use the New York City subway system as every other person. The Court's decision marks the end of the MTA treating people with disabilities as second-class citizens."

More faster trains!


The severely disappointing Fair Fares rollout will get slightly less disappointing this fall when the program expands to "eligible New Yorkers in NYCHA, enrolled students at CUNY and military veterans below 100 percent of poverty line." The pay-per-ride option will also be available in mid-March. The city also plans to launch open enrollment in January 2020 for all eligible New Yorkers below the Federal Poverty line, which is better than never but a year later than everyone expected.

I really think the MTA made a mistake by not pursuing a cat-based fare payment system (although hopefully OMNY works better than whatever payment system this is)


From the Department of Hell Yeah:

One of my New York nightmares, along with falling down a basement door or having an air conditioner crush me above, is finding out I walked past a homeless person who I thought was sleeping but was actually dead, because the idea of walking past a dead person without the slightest bit of compassion is the functional definition of a morally bankrupt society. In totally, completely unrelated news, a homeless man sitting on a bench at the Herald Square subway platform at 9 AM on a weekday was pronounced dead.

MTA board member Carl Weisbrod is resigning effective April 4, another loss for a board that is under tremendous pressure on multiple fronts to solve problems they don't have any power to address. The board has lost several key voices lately in Scott Rechler, Jamie Vitiello, Ira Greenberg, and now Weisbrod. Mayor De Blasio will get to nominate a replacement.

Back when the L was shutting down, NYCT president Andy Byford and DOT commissioner Polly Trottenberg were personally showing up to town halls to answer questions from (and get shouted at by) locals. Well, during the new "L Project" town halls, no MTA official or voting board member showed up (board members probably didn't show up because the MTA has demonstrated they don't get a say in what happens with the L tunnel). It is as this point I must remind you that Andy Byford was removed from the L tunnel project within days of him vowing to do a full, independent review of the new plan.

From the MTA's L Project newsletter:
"We're way ahead of schedule on the major mezzanine expansion we've been building at Bedford Av Station. We'll be ready to open it on Monday, March 25."

That's good!

"But before it's finished, we have to build two new stairs to connect the mezzanine to the platform. We're going to do these one at a time, but it's still going to make the platform extra crowded."

That's bad.

"Starting this coming Monday, March 11, our team and NYPD will be out helping you navigate safely."

That's good!

"FYI, if you're traveling in the busy morning or evening times and get off the train at this station, you'll be directed to exit on the Driggs Avenue side."

That's…fine.

The MTA is going to try installing vending machines at some in-station locations to replace newsstands, which seems reasonable enough. Dear MTA: please put Takis in the vending machines.

Ginia Bellafante did not hold back on De Blasio's subway obliviousness: "'What I gleaned is people really depend on their subways,' Mr. de Blasio said at a news conference later, sounding as if he were a tourist from Havana with limited access to the tens of thousands of words that have been devoted to this subject by the local press during the past few years."
Meanwhile, in the Rest of the World
No ROW links this week because it was one of those weeks where I did not have my shit together. Sorry! They'll be back next week, I promise.
Dog in a Bag
MTA Rules of Conduct Section 1050.9 Subsection (h) Paragraph 2: no person may bring any animal on or into any conveyance or facility unless enclosed in a container and carried in a manner which would not annoy other passengers.
Have a dog in a bag photo? Reading this on the subway and see a dog in a bag? Take a picture and send it to signalproblems@substack.com.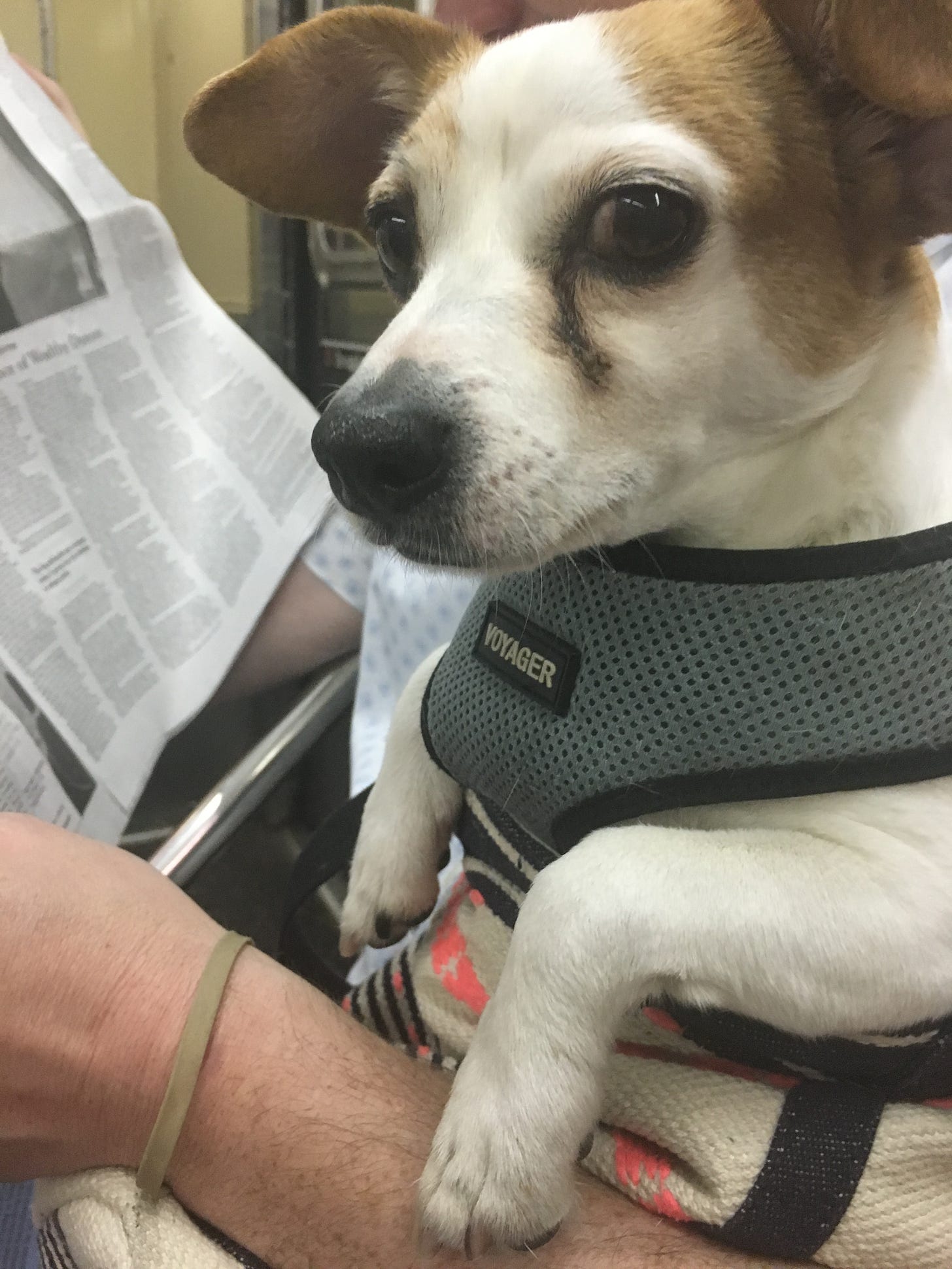 Photo credit: Elizabeth Greenwood
---
This has been another edition of Signal Problems, a weekly newsletter helping you figure out what is going on with the subway, made every week by Aaron Gordon, senior reporter at Jalopnik. Read on the web or view the archives at signalproblems.nyc.
If you're enjoying this newsletter, please share it with others. It's the best way you can say thanks.
As always, send any feedback, subway questions, or Dog in a Bag photos to signalproblems@substack.com. I'd love to hear from you. As someone on a stalled Q train once told me, we're all in this together.