A lot happened this week! No time to think of a funny subject line!
Whoa!!!
No time for introductions!
Big News Thing #1
Governor Cuomo and Mayor De Blasio released a joint 10-Point Plan to fix the MTA. The headline: De Blasio officially supports congestion pricing now, however reluctantly. But a lot of the details, both about congestion pricing and the other points, are yet to be hashed out. A lot of ink has been spilled on the plan so I won't spend much time re-hashing it. You can read the plan here and some analysis here, here, here, and here.
To be honest, though, I think any analysis of the plan is premature. While there are a lot of potentially worthwhile ideas—MTA reorganization, a coordinated approach to fare evasion that does not include criminalization but does include station design modifications, and external oversight body on major construction projects to name a few—every single proposal will come down to the details. The details are really all that matters. Once upon a time, the MTA was a plan to centralize the metropolitan region's urban transportation. It was a plan to create sustainable funding for mass transit, first through toll revenue (and accompanying borrowing power) and then through a series of dedicated taxes. It didn't work. The question is why, and whether we should believe these efforts will work any better. And it's impossible to answer that without the details. The MTA won't be fixed with bullet points.
That being said, I'm keeping an open mind, but there are some early signs for concern. One, which I wrote about for paid subscribers, is that the plan specifically name-checks ultra wide-band as a replacement for CBTC, which doesn't make any sense technologically speaking.
Another reason for concern came from MTA board member Veronica Vanterpool during the board meeting, the very governing body this plan marginalizes. In short, she threw out some viable, detail-oriented reforms this plan doesn't touch:
It's fashionable to talk big-picture changes to "blow up" the MTA, as Cuomo once said. It's obvious why. But major reforms lacking in focus often re-create the very problems they were intended to solve. There is, after all, a reason why they're problems in the first place.
Big News Thing #2
After a month delay, the board passed a fare and toll increase that's basically the same as one of the options proposed months ago. By delaying the fare increase vote by a month—something that has been scheduled years in advance and the board members specifically discussed as far back as July—the board cost their own authority $30 million for no good reason.
Anyways, about that fare increase. The base fare is staying the same, the bonuses are getting eliminated, the 7-day unlimited is going up a buck and the 30-day unlimited is going up six bucks.
My *~*hot take*~* is the bonuses were needlessly confusing especially for out-of-towners and I'm glad they're gone. While it's a bummer to pay more money, as we move towards a new fare payment system that opens up possibilities such as fare capping, it was time to say goodbye to the bonuses.
Here's a tip, courtesy of Mamma Second Ave Sagas: load up on pay-per-rides by April before the fare increase kicks in. All those bonus rides will be freebies if used after the fare increase. MetroCards expire after a year, but you can use the vending machines (or a station agent, if you can find one) to move the balance over to a new card before it does.
Big News Thing #3
Fewer people took the subway and buses in 2018 than the year before, according to preliminary ridership figures released in the latest MTA board books, continuing negative ridership trends. There are a few different ways to slice the numbers:
In total, the subway had 1.68 billion riders in 2018, a decline of 2.7 percent over last year, continuing the decline since 2015 when ridership peaked. To put 2018's total on the trend line, that 1.68 billion annual subway riders is between the totals from 2012 and 2013.

The real emergency is on the buses. NYCT buses had 569.3 million riders in 2018, down from 602.6 million last year. Bus ridership peaked in 2013 and has been plummeting since. I'm going to bold and italicize this following bit because it's really, really bad: In total, NYCT bus ridership is down almost 16 percent since 2013.

Average weekday subway ridership was 2.6 percent lower in 2018 than the year prior. Average weekend subway ridership was 4.3 percent lower.

In 2018, local weekday bus ridership decreased six percent from the year prior, and weekend ridership was down 4.9 percent.

All of this hurt the MTA's bottom line. NYCT estimates they took in $96.3 million less than expected (2.1 percent) while operating expenses were over budget by $100 million which NYCT very transparently attributes to "several account overruns" without further explanation (I didn't hear any NYCT committee or MTA board member inquire as to what those account overruns were, but this was buried pretty deep in the board books).
(While I'm here, I'd like to take a moment to say I'm sick of NYCT always, always, always attributing any negative trend whatsoever to "the impact of adverse weather," as they do here once again with the farebox revenue loss. Except for when performance is good, in which case it's never about the weather. Last year, NYCT blamed January's horrible performance figures on a series of storms, but this year, they didn't attribute any of the year-over-year improvement to the fact that this January didn't have any storms. Paid subscribers got an email about that this week, too.)
There are some important caveats to these numbers. These drops, at least on the subway, are not coming from peak hour ridership (as you can probably guess by your peak hour ridership experience). Alon Levy's post on this subject is worth your time, especially if you want to get upset. He argues NYCT planners ought to do less adjusting of off-peak schedules to small negative changes in ridership, which succeeds in pinching pennies but fails in providing a useful transit network. Instead, they should have frequency guidelines, not loading guidelines, which would create a virtuous cycle where more service leads to more ridership rather than the other way around.
He concludes with a point I think we would all do well to internalize:
This increase in frequency is not possible if politicians and senior managers respond to every problem by cutting service while dragging their feet about increasing service when ridership increases. It requires proactive leadership, interested in increasing public transit usage rather than in avoiding scandal. But the actual monetary expense required for such frequency is not large, since large increases in frequency, especially in the off-peak, mostly pay for themselves through extra ridership. The initial outlay required to turn the vicious cycle into a virtuous one is not large; all that is required is interest from the people in charge of American transit systems.
When he says "the actual monetary expense required for such frequency is not large," we're talking in the few tens of millions for a whole year, a rounding error in NYCT's overall budget. Remember just a few paragraphs ago when NYCT waved away $100 million due to "several account overruns? It would cost less than that. Or a section ago when the board cost the MTA $30 million by delaying a vote on fare increases for little apparent purpose? It would cost about that, give or take.
The for-hire vehicle surcharge, or "Phase One" of congestion pricing as some people call it, will raise about $400 million a year and much of the allocation of that money has yet to be determined, particularly the $50 million outer borough transit fund. Using it to fund higher off-peak service frequency, especially late nights and weekends, ought to be considered. Otherwise, we can expect these trends to continue.
---
In a surprise to no one familiar with the history of the MTA and accessibility in this city, the Daily News is reporting if the MTA gets less funding for Fast Forward than they're asking, they will chop 14 stations from the accessibility upgrade plan. During Monday's committee meeting, Byford said his commitment to make 50 stations accessible within five years is "rock solid."
The backdrop to all of this is, when disability rights advocates asked the MTA to make this a legally-binding commitment as part of the ADA lawsuit settlement, the MTA refused and pulled out of negotiations. The plaintiffs then sent a request to the judge to move the case forward given the impasse.
---
I didn't follow this particular news item too closely but a car tried to cross LIRR tracks when the gate was down and ended up getting hit by two trains, killing the three people inside the car. Several outlets reported the car was trying to flee the scene of an accident.
---
Say hello to OMNY, the new tap-to-pay MTA payment system which will debut in May on the Staten Island buses and the 4/5/6 from Grand Central to Barclays. It will be pretty limited at first, accepting only single-ride fares on those limited routes/stops, but hopefully the rollout will be swift.
---
Did you know NYCT has their own weekly newsletter, specifically about the L project? It's called L Project and this week they had a nifty graphic explaining how single-track operation will work:
As you can see, it will take very precise operations to achieve even the 20 minute headways across the river NYCT is advertising.
Also, there will be four MTA "open houses" to learn more about the L Not Shutting Down plan, including "One-on-one trip planning help with MTA team members":
Thursday, March 7: Our Lady of Guadalupe at St. Bernard, 328 W14 St (btw 8th and 9th Aves)

Wednesday, March 13: Williamsburg Northside School, 299 N7th St (at Meeker Ave)

Tuesday, March 19: Grand Street Campus High School, 850 Grand St (btw Bushwick Ave & Waterbury St)

Monday, April 8: 14th St Y, 344 E14 St (btw 1st & 2nd Aves)
---
There's a stupid rule that technically bans passengers at the Fordham station from boarding New Haven Line Metro North trains. They have to wait for a Harlem Line train, because sometimes rules stick around for more than a century and nobody knows why. Thankfully, Metro-North is finally, finally doing away with this silly, stupid rule starting April 14, in exchange for splitting ticket revenue for trips between Fordham and Manhattan with Connecticut.
---
Bombardier and Siemens got a bollocking from the LIRR/MNR committee for their delays on the Positive Train Control project, including needing to recall 1,000 antennae. The board talked a big game about holding these failures against them in the future, but Bombardier is one of only four qualified rail car manufactures—and another, Kawasaki, is at capacity fulfilling existing MTA orders and may pull out of the North American rail market entirely—and Siemens is a key partner, along with Thales, on CBTC stuff. Perhaps that's why the Bombardier and Siemens reps didn't seem all that troubled.
---
There are going to be a lot more digital screens in both subway stations and rail cars as the MTA seeks to capitalize on the fact that every second you don't spend exposed to an advertisement is a second they're not making money.
Janno Lieber, the MTA's chief development officer, estimates the new ads could bring in more than $100 million annual revenue, although it's not clear if that's $100 million the MTA gets or $100 million they'll have to split with Outfront Media, the company paying for the new screens and taking a cut of the ads. The MTA can still use about 20 percent of screen space for their own PSAs.
---
This isn't transportation-related but I've been obsessed with the New York Public Library's OldNYC historical photos mapping website. PSA: do not click on this link unless you have several hours to spare.
---
Another PSA:
---
Thanks to all the paid subscribers who make this free edition possible. Consider becoming a paid subscriber today to support the newsletter.
---
Your Upcoming Service Advisories, Provided by Lance from Subway Weekender
Note: the service advisories reflect the most disruptive changes. Be sure to check the maps or the MTA website for a full list of service changes.
Weekend:
4 – Reduced service between Burnside Av and Woodlawn

D N – All service is local-only in Brooklyn

E F – All service is local-only in Queens

F – No service between Church Av and Coney Island

L – No service between Broadway Junction and 8 Avenue
Late Nights:
3 – No overnight service

4 6 – Downtown service is express-only between Grand Central and Brooklyn Bridge (Wed., Fri. mornings only)

A – No service between Jay St and Utica Av (Tues. morning only)

D – No service between 161 St-Yankee Stadium and 205 Street

F – All service is local-only in Queens

L – No service between Broadway Junction and 8 Avenue

Q – Downtown service runs via F and D lines between Lexington Av-63 St and DeKalb Av
Meanwhile, in the Rest of the World
David Roth's Esteemed Subway Rider of the Week
A text conversation with David on Friday around 11 PM:
David:
We have a Man In Bunny Costume, with ears and some kind of purple shirt, situation developing on the Q. He is wearing black jeans and texting, fairly sweaty. Distinguished Rider is BAC BABY.
Me:
Does he look sad in that way people in costumes on the subway by themselves always do?
David:
Great question. Yes.
Me:
I think that's my favorite kind of subway sad
David:
It's a very distinct flavor.

He removed his ears, put on an American flag bandana, and then put the ears back on.
Me:
Gotta support the troops.
David:
Man this got weird. Train stalled out at 23rd, dude is haranguing two teenagers about "the comedy of today."
Dog in a Bag
MTA Rules of Conduct Section 1050.9 Subsection (h) Paragraph 2: no person may bring any animal on or into any conveyance or facility unless enclosed in a container and carried in a manner which would not annoy other passengers.
Have a dog in a bag photo? Reading this on the subway and see a dog in a bag? Take a picture and send it to signalproblems@substack.com.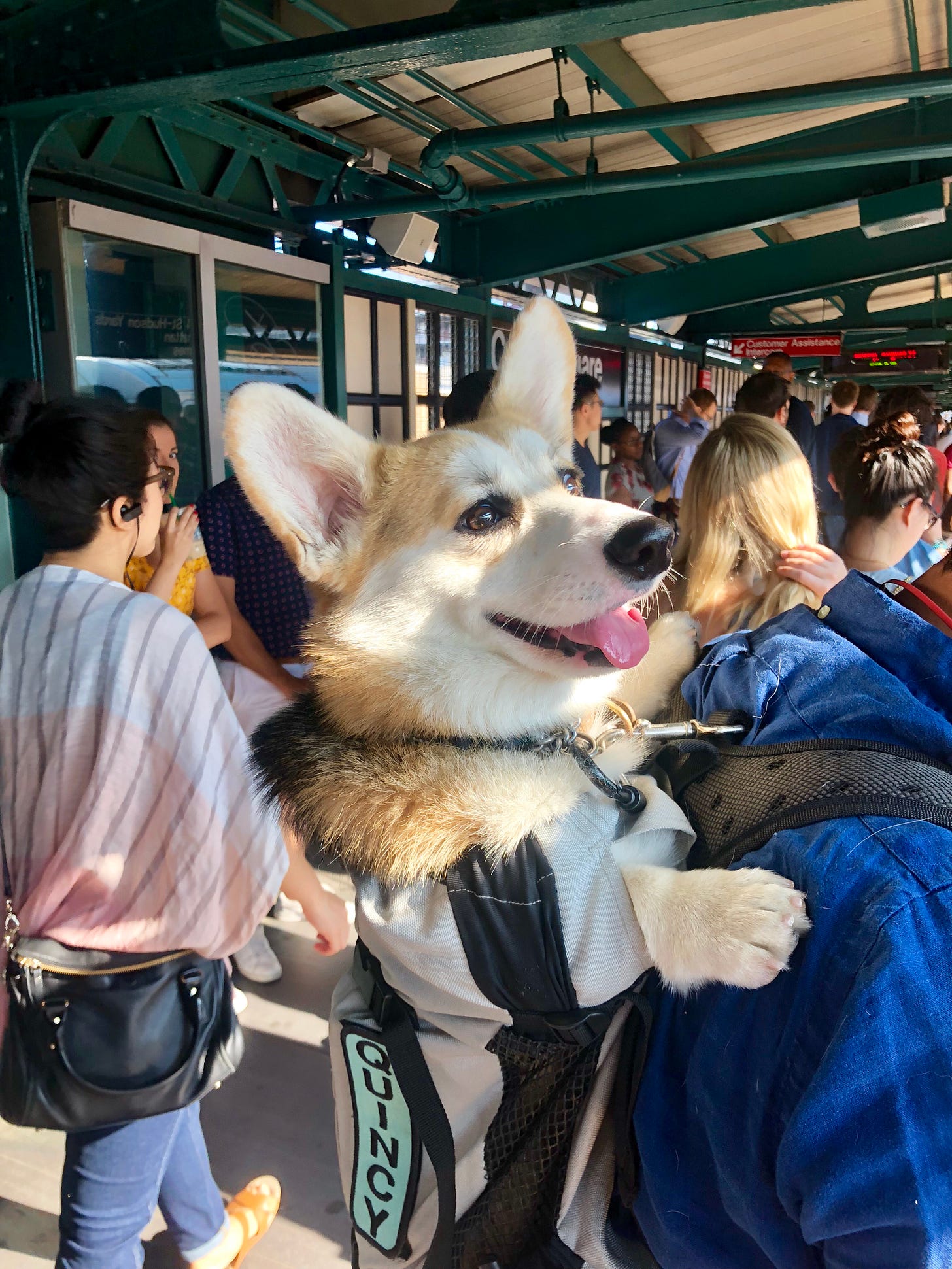 Photo credit: Austin Federa
---
This has been another edition of Signal Problems, a weekly newsletter helping you figure out what is going on with the subway, made every week by Aaron Gordon, freelance transportation reporter. Read on the web or view the archives at signalproblems.nyc.
If you're enjoying this newsletter, please share it with others. It's the best way you can say thanks.
As always, send any feedback, subway questions, or Dog in a Bag photos to signalproblems@substack.com. I'd love to hear from you. As someone on a stalled Q train once told me, we're all in this together.