Thank you so much to everyone who became a paid subscriber! I'm excited to put together some fantastic special editions for you.
If you missed yesterday's announcement, you can read it here. And my apologies to everyone who had trouble signing up yesterday. Substack, the newsletter platform, had some ill-timed technical difficulties. But everything is back to normal.
---
On Monday, the MTA Finance Committee discussed a long-awaited report on fare evasion. The "report" was really just an eight-slide PowerPoint woefully short on details and methodology breakdowns. When I asked the MTA if there is a more detailed, full report and when it will be released, a spokesman replied, "This is the report."
According to the MTA, there are around 550,000 fare evaders on the subway and buses every single day. The MTA further estimates $215 million in "lost" revenue due to fare evasion this year, almost double the amount "lost" due to fare evasion in 2015. Here is the graph they used to illustrate the problem (chart nerds, avert your gaze):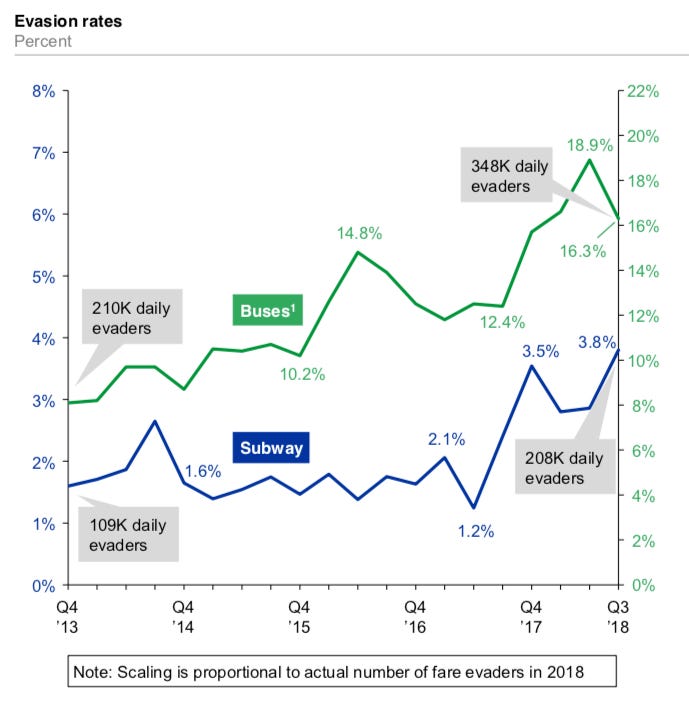 I've put the term "lost" in quotes because I have absolutely no idea how NYCT came up with this estimate. The only clue they give in the presentation is this bullet point:
Evasion rates are calculated against paid ridership figures.
I don't know what assumptions went into calculating those revenue figures or the daily evader projections. And those assumptions are incredibly important when extrapolating from observation-based samples. We know they counted people who didn't swipe at various subway stations and bus routes, and that ultimately their computers churned out these estimates and figures. But, we don't know, for example, if they've changed the method, location, or sample size of their observations over the five-year period, as they have with many other statistics. Everything in between is a total black box.
So, we're left to evaluate these numbers as best we can. The MTA is saying that one out of every 25 subway riders are fare evaders, and about one out of every five bus riders doesn't swipe. As Chase Tralka on Twitter pointed out, this averages out to one fare evader at every subway station every three minutes.
Without knowing more about the methodology, its possible there is some serious over-counting as a result of the MTA's complicated fare structure, poorly-designed control areas, and service change policies. At its core, I worry this analysis conflates two distinct problems: people not paying for their ride versus the MTA not accurately counting riders.
For example, the presentation made the point that fare evasion through the subway service gate has increased four-fold since 2011, which accounts for the "vast majority" of the increase in fare evasion on subways. But it is quite the leap to assume everyone who enters the subway through the service gate is not paying their fair share. According to the most recent MetroCard report to the board (page 191), more than half of all trips are taken on unlimited MetroCards. Surely, many people entering through the service gate are doing so with unlimited cards in their possession simply because it's easier or less crowded. Or perhaps they have bulky items and don't feel like going through the cumbersome process of alerting the station attendant, swiping the card, backing up, and going through the service gate. Maybe there's no station attendant at all.
And this is to say nothing of local buses, where NYCT estimates as much as one out of every five riders does not scan their card (evasion is lower on SBS, but still higher than the subway). Fare evasion is a much bigger problem on buses for sure—there is almost no enforcement and drivers are instructed not to intervene—but I do wonder, again, how many people simply don't bother to swipe because they're on a free transfer, or are waved through by a driver trying to speed things up.
In any event, this potential for over-counting and total lack of transparency on the report's methodology would be bad enough if the presentation didn't try to make the exact opposite point. In fact, NYCT argues, they were likely under-counting the problem because of such factors as "the inherent limits of human observers in a dynamic environment" and "the mere presence of field staff may limit evasion."
These last notes concern me a great deal. If NYCT was truly interested in studying fare evasion, they would take basic measures to minimize these factors, such as dispatching plain-clothed employees. This, to me, raises a big red flag. Either they're working backwards from a desired conclusion or not thinking through their methodology very carefully.
That's not to say I think fare evasion is a non-problem. But this eight-page PowerPoint (OK yes the PDF is nine pages but no way am I counting the title slide) does not constitute transparency on the issue. Instead, I would characterize it more as an argument. And it's not a particularly useful one, particularly given all the other challenges the MTA faces.
Even if everything the presentation says is accurate, it's not even clear what should be done about it. As Byford has repeatedly stated, fare evasion is a fact of life on any transit system. At least as the subways are concerned, even these higher figures are not that far out of line with what the NYCT presentation dubs "peer metros" (which metros are they and what methodology do they use? Good question! The report doesn't say).
But let's grant the premise that fare evasion is a huge problem. Then what? Post cops at every turnstile? 89 percent of those arrested this year for fare evasion are black or Hispanic. In any formulation about how to move forward with fare evasion policing, this is a fact that simply cannot be brushed aside. What does equitable fare enforcement look like? How resource-intensive is it? Until there is a clear plan on this front, the MTA runs the risk of further encouraging discriminatory enforcement practices.
But the main reason this issue rings hollow to me has to do with why the report was even generated in the first place. The MTA board asked for it.
Indeed, the board's disproportionate focus on fare evasion these last few months speaks volumes about their priorities. To me, it's indicative of the MTA board not knowing its purpose. Does the MTA exist to be run as a self-sustaining entity? Or is it a public good funded primarily by tax revenue? And what is the board's actual role in figuring that out?
Answering these questions would go a long way towards making the fare evasion question clearer. If the MTA ought to be self-sustaining, then it would have a rigorous cost-benefit calculus as to the optimal amount of fare evasion—which, by the way, is not zero, as that would require far too much enforcement—and how to best achieve it. On the other hand, if the MTA is delivering a public good, then very little energy should go to enforcing fares through draconian policing. Insofar as it would be interested in curbing fare evasion, the MTA would in this case be focused on design changes to the fare control areas. For example, turnstiles could be re-designed to prevent hopping—it almost seems to me like our turnstiles were specifically designed to facilitate hopping, unlike other fare control areas— and control doors closed again.
Further, the astronomical rate of fare evasion on buses would suggest it's time to have a discussion about whether buses should have a fare at all. (There are a lot of other elements in favor of free buses, including social justice, income distribution, and traffic reduction/environmental arguments. That's for another time.) Or, perhaps the MTA would simply need to adjust baseline assumptions for how much revenue is "lost" to fare evasion every year and work within those confines.